St Thomas's Hospital Lambeth Ode to Torsion (Huck Funt)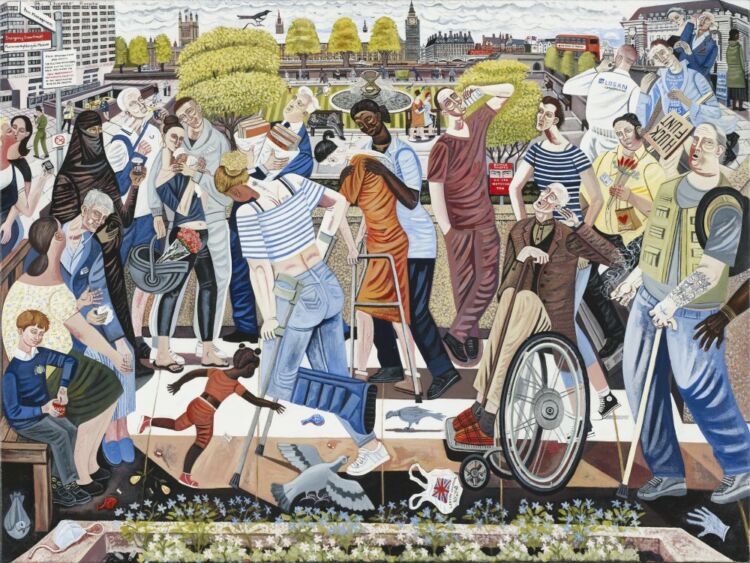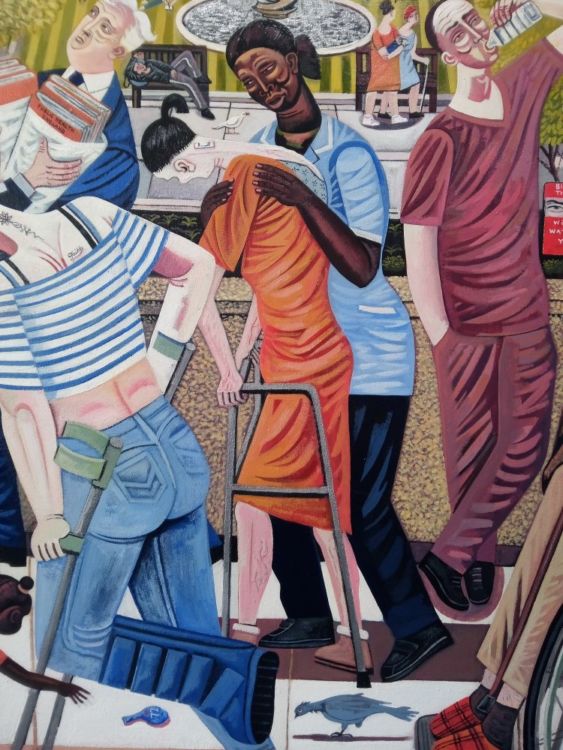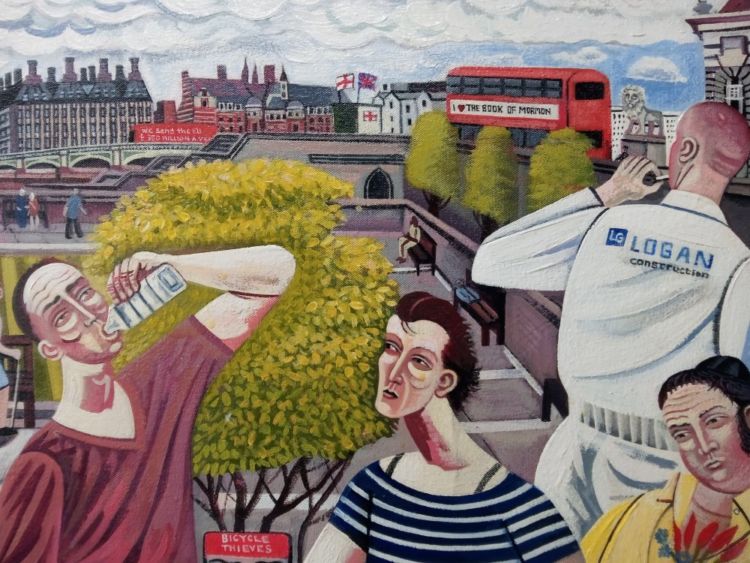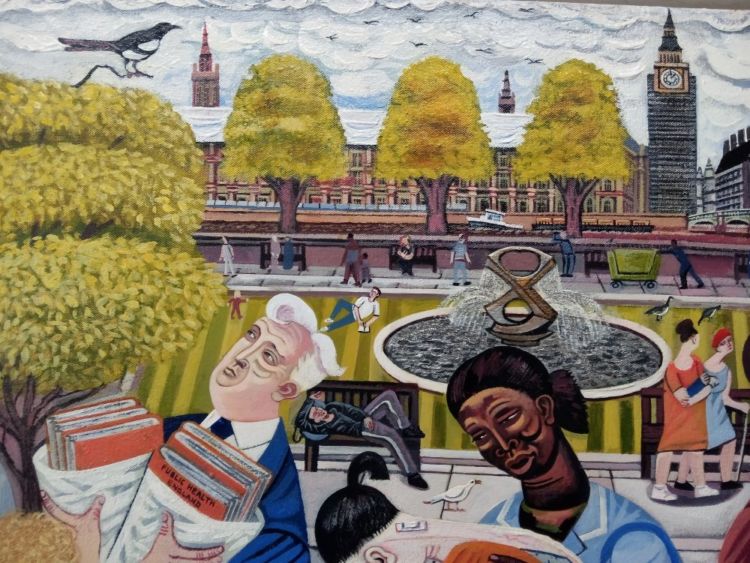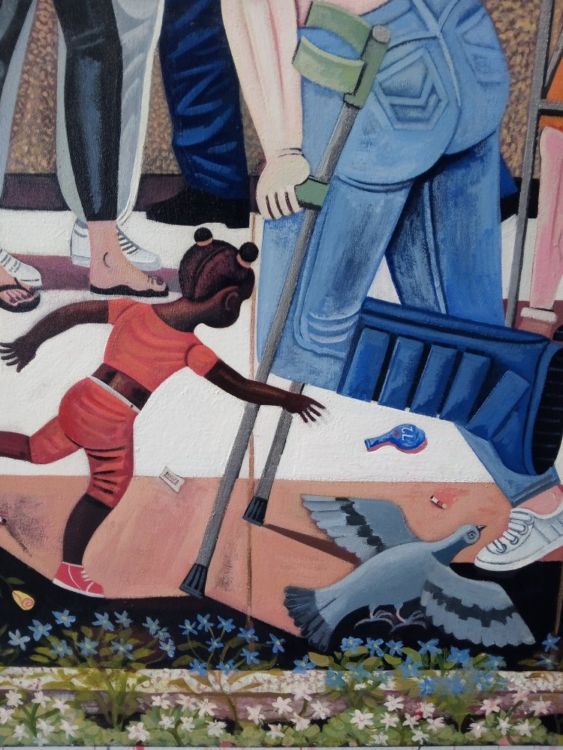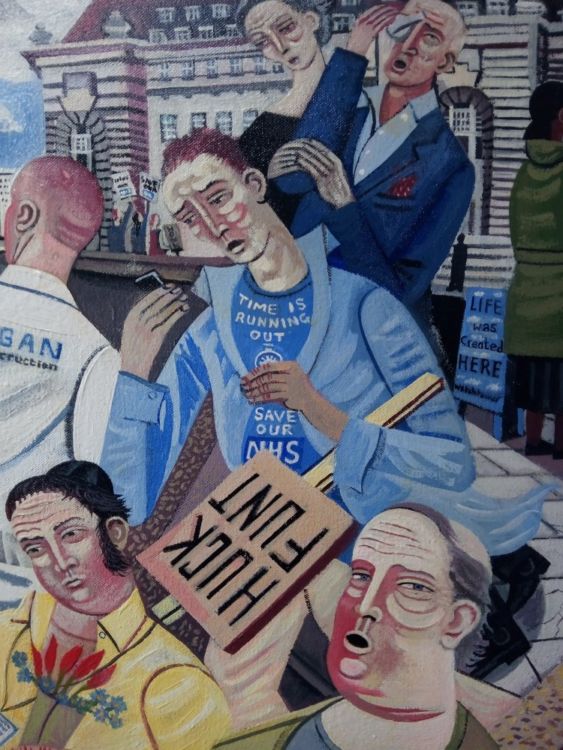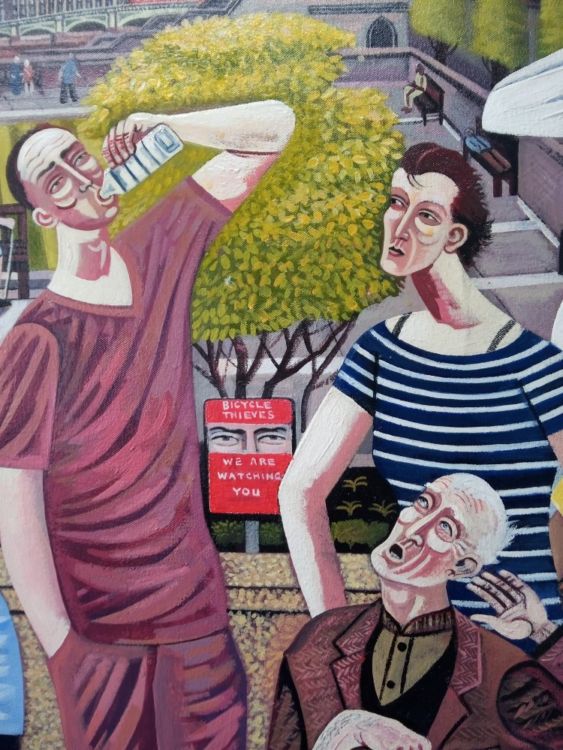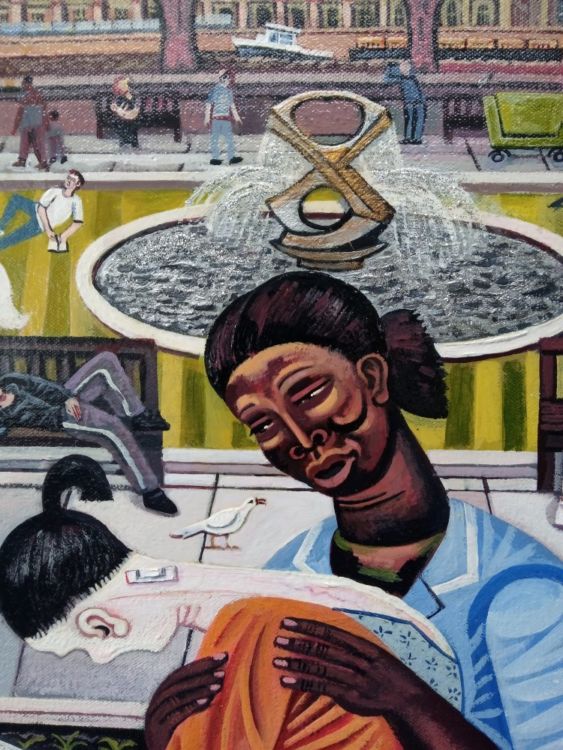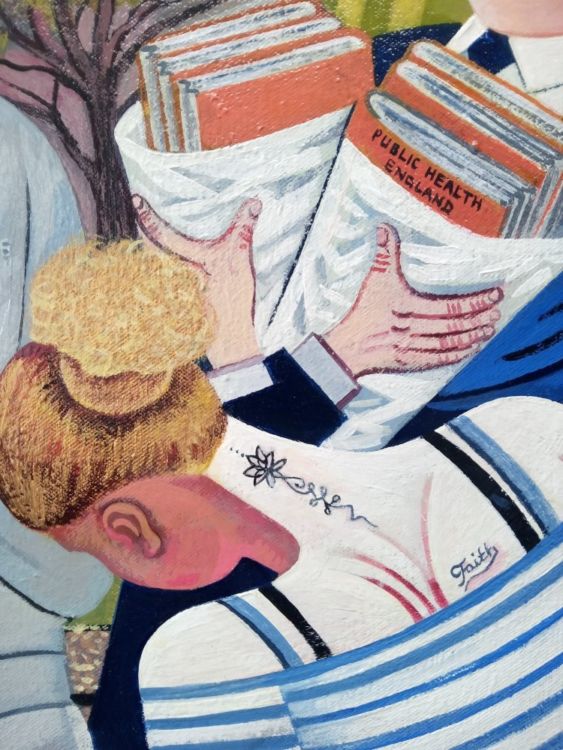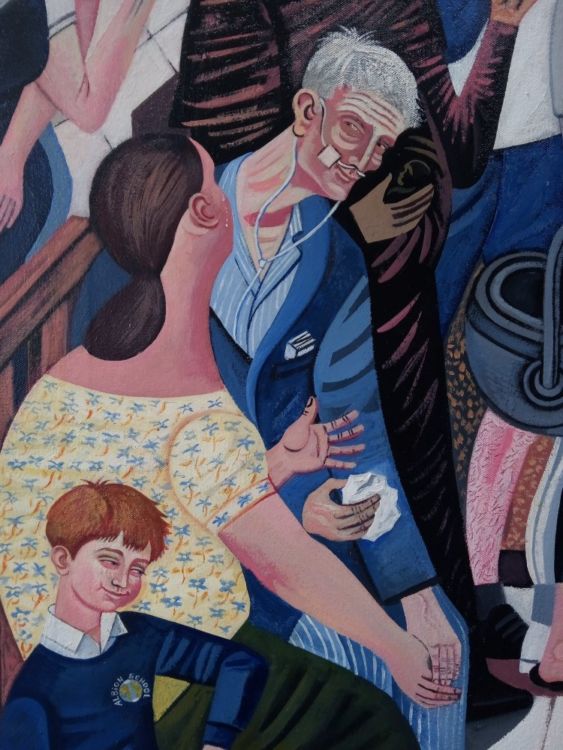 Dimensions: 160x120cm
Media: Acrylic paint, chalk, charcoal, glitter on canvas
Year: 2020
Sold: Yes
Ode to Torsion
'Torsion' definitions:
The action of twisting or the state of being twisted, especially of one end of an object relative to the other
The twisting of the cut end of an artery after surgery to impede bleeding
The extent to which a curve departs from being planar
I was visiting St Thomas's hospital for a while in 2016 as a patient. Before this time our children were born there as well so as with all my paintings an idea took hold over time. I'd always loved LS Lowry's painting of Ancoats Hospital Outpatients Hall from 1952.
At this time of my visits to Tommy's the pressures on the NHS from years of austerity were becoming more and more obvious. The system was under strain from a kind of twisting imposed from across the river in Westminster, a torsion if you will.
There is a water fountain the grounds of the hospital called Revolving Torsion, made by Naum Gabo in 1972. On my visits to the hospital I began to see this fountain as a symbol of hope. 
By the time I had finished this painting Ode To Torsion the fountain had become a kind of halo above the head of the nurse placed at the centre of the painting. By way of contrast to the word 'Hell' at the centre of my Ode to Joy Westminster painting in Ode to Torsion the word 'Faith' is tattooed onto the neck of the patient with the bandaged leg that I'd seen while I sat sketching in the grounds of the hospital. 
The completion of this painting coincided with the arrival of Covid 19, the Clap for Carers and the celebrations for 72 Years of the NHS, but it wasn't so much about that. For me it was about the years of austerity that led up to that point. A protesting junior doctor carries a cardboard sign emblazoned with the words 'Huck Funt', a broken mask lies abandoned on a wall. Parliament itself is bandaged and splintered across the river.
Amongst all of this, new life is created, new hope and new stories are unfurling as the city welcomes a new generation. Patients and out visitors sat down next to me as I sketched eager to tell their story to someone willing to listen, an outsider. The weight of emotion was overwhelming as I watched the parade of the infirm, the elderly and the new mums and dads pass before me, over and over.
There was so much love and care in what I was seeing, even under the strain of torsion. Everyone spends parts of their life within the care of the NHS and this painting celebrates the people who touch, soothe and hold us, from cradle to grave. 
Sketches from St Thomas's