News
Events in 2020
Ed will be exhibiting new London paintings in 2020. Details will be posted next year. He will also be collaborating with Monks Road Social on a new project
Goodwill to all Cityphiles
Ed is offering a seasonal discount of free delivery on all limited edition prints in the Shop featuring city scenes of London, New York, Los Angeles, San Francisco, Mexico, Cape Town, Tokyo
https://www.edgrayart.com/shop/
A Town Called Malice
Ed is currently working on new paintings of Westminster Old Palace Yard and St Thomas's Hospital, in addition to scenes of Soho, Gospel Oak and the Ashes at The Oval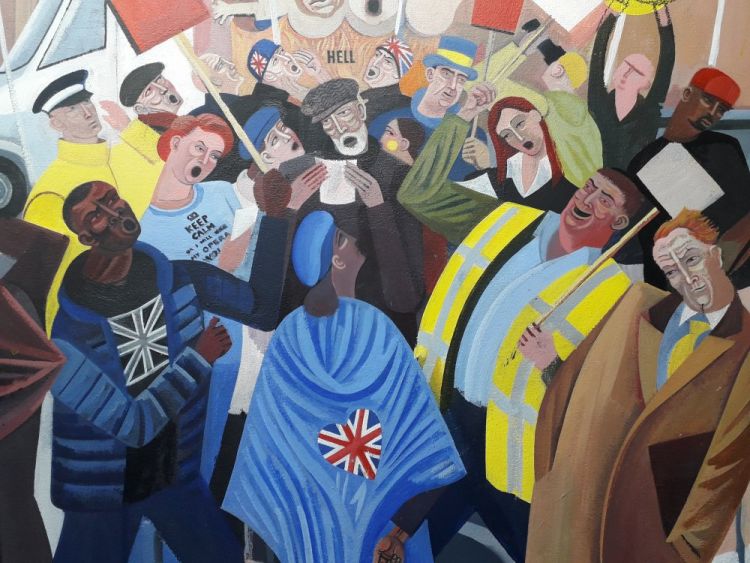 Work in progress Old Palace Yard Westminster 'A Town Called Malice'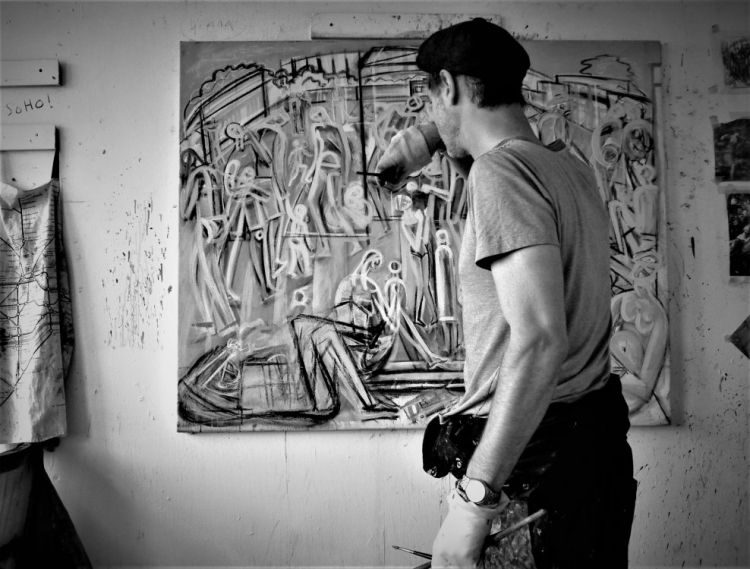 Parliament Fields Lido Gospel Oak
Sales 
Ed has recently sold the paintings Bermondsey Carnival,  Gugulethu Strike Cape Town and Palm Sunday Harlem Church.
View originals for sale here. Enquiries to info@edgrayart.com :
https://www.edgrayart.com/originals/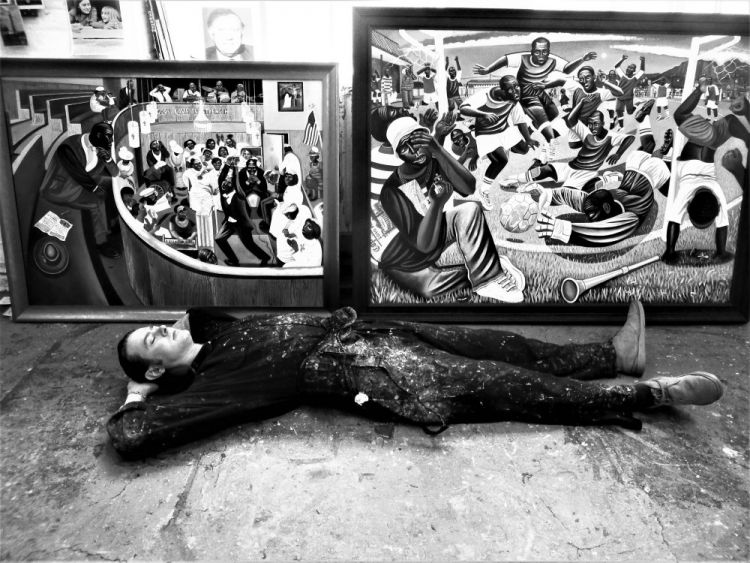 In our Mad and Furious City 
Ed's painting of Whitechapel market is featured on the cover of the Swedish translation of the great London novel by Guy Gunaratne 'In Our Mad and Furious City'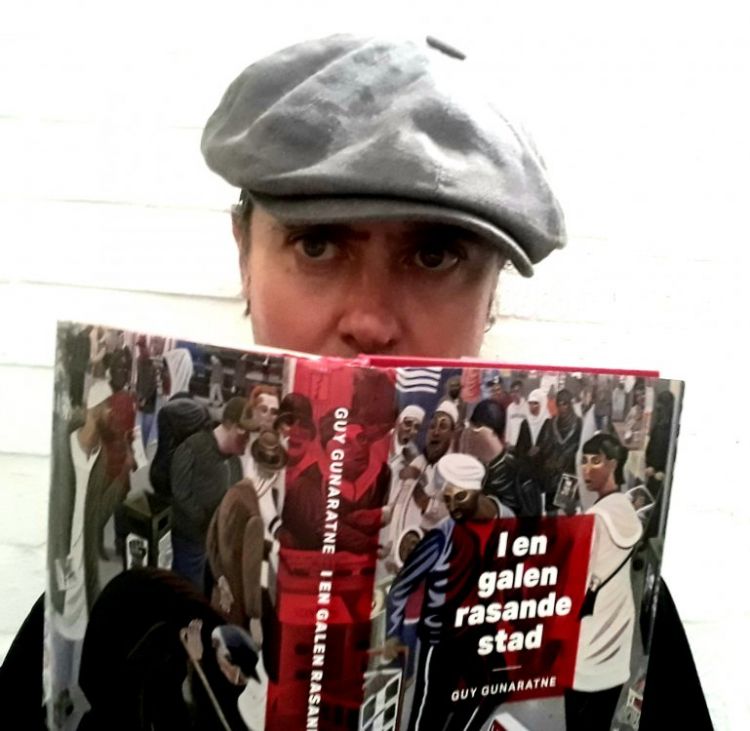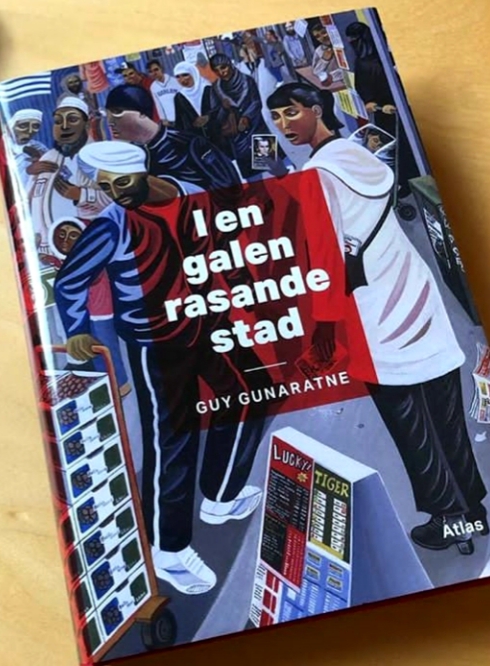 London Made Us
Thanks to Mr Robert Elms for his wonderful book  'London Made Us' and for mentioning Ed as 'one of London's finest chroniclers'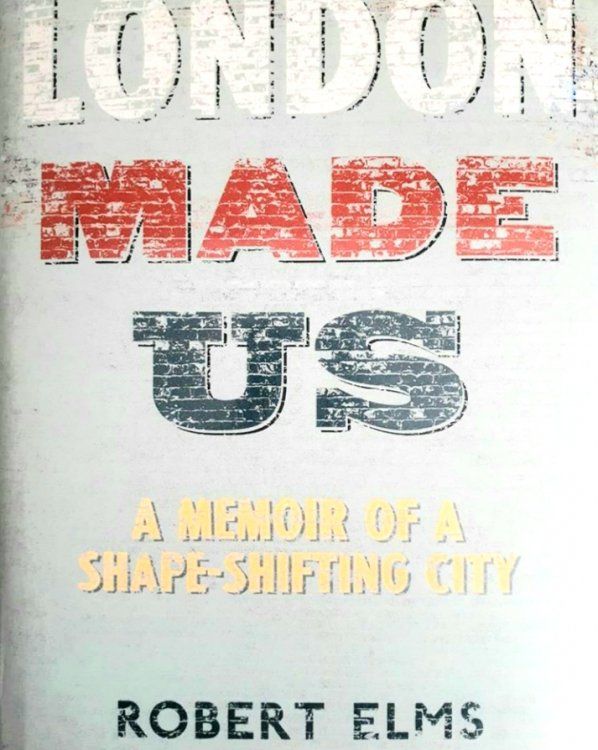 Ed Gray Art Blogs
Ed has recently been blogging about the rebel painters that have inspired him on his journey. WIlliam Hogarth, Philip Guston,  Caravaggio so far but there's more to come. Here's a taste:
https://www.edgrayart.com/blog/rebel-painters-part-3-hail-to-thee-mandarin-stumblebum-philip-guston-visionary-trusthsayer/
The Black Dog of Beer Street 
Black Dog Pub Company are using Ed's painting  of the Mayflower pub dog Ringo, inspired by Hogarth's Beer Street, as their new logo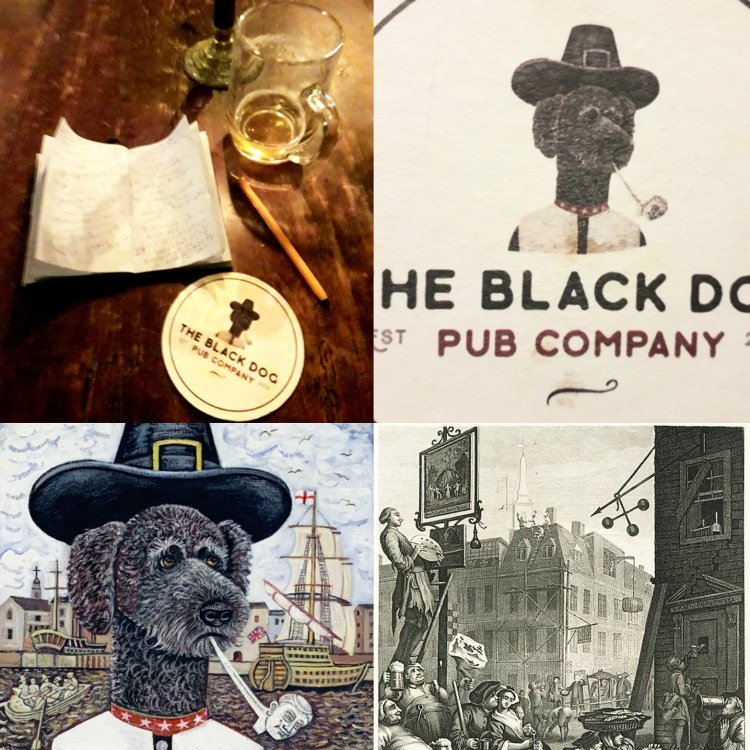 Royal Academy Summer Show 2019
Ed was delighted to have a submission accepted to this year's RA Summer Show. Jock McFadyen  was coordinating the show this year. Ed has loved Jock's paintings for many years and was pleased to have his painting Old Street Roundabout hanging top right in the orbit of Jock's beautiful Moon painting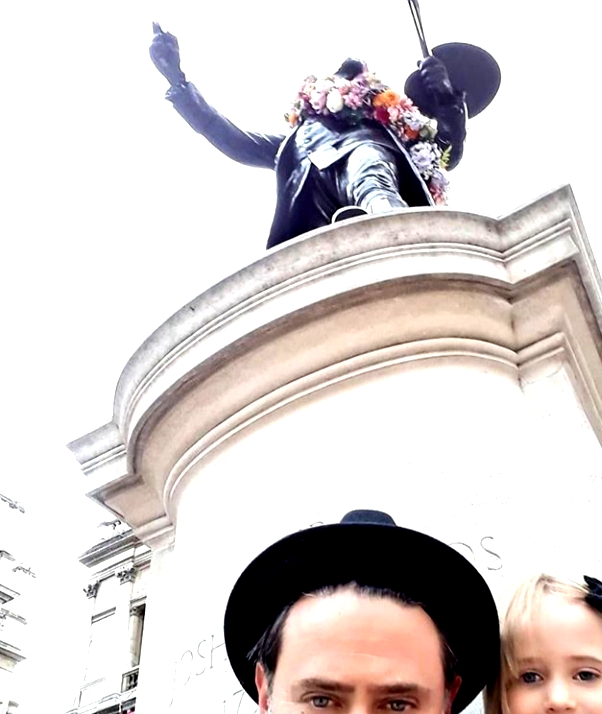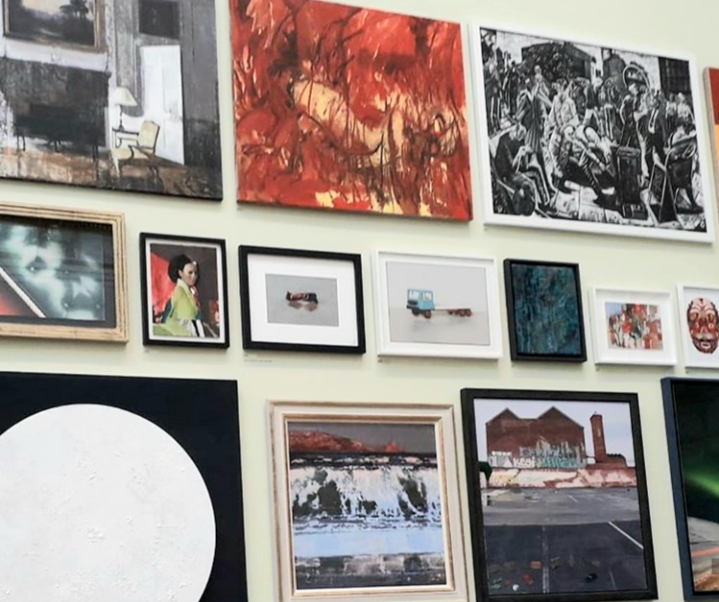 Ed's teaching and lecturing work in 2019
Ed has recently being running art workshops for 2InspireYouth and the Walworth History Society  Festival, HMP Bellmarsh YOI, INSET fior staff at National Football Museum Manchester and enjoyed a studio visit from School of Visual Arts New York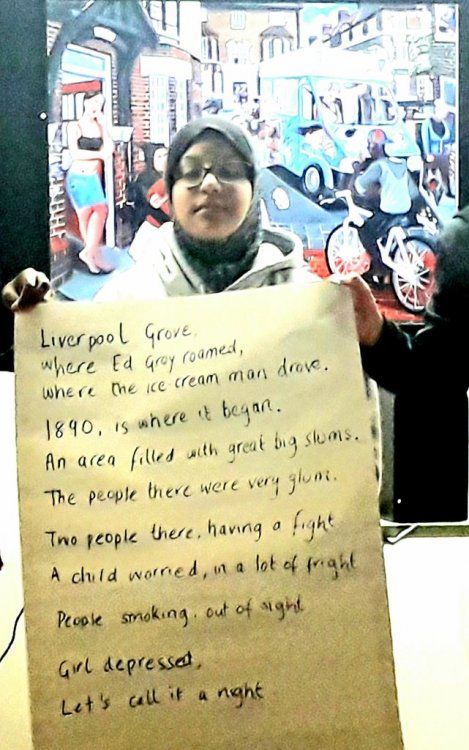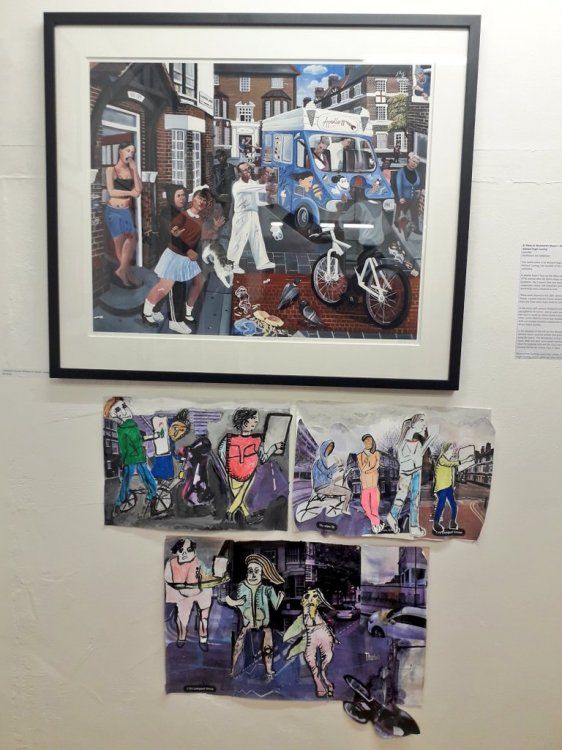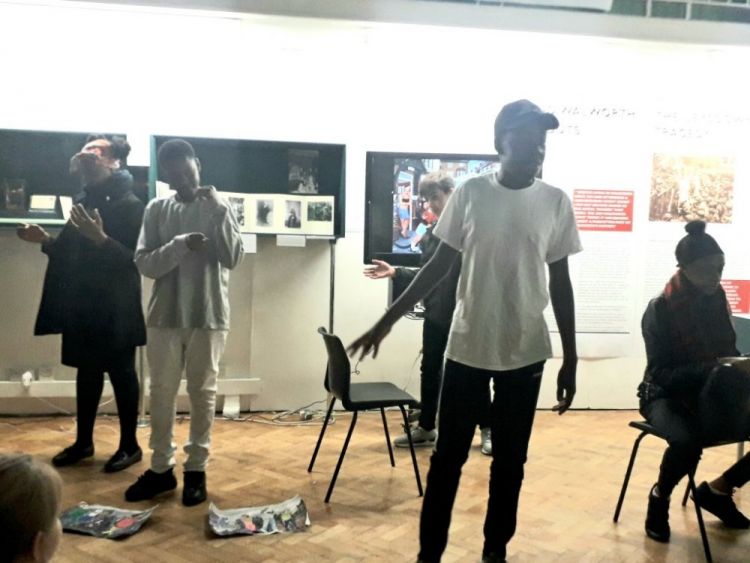 Walworth History Festival performance by 2InspiteYouth inspired by Ed Gray's painting of Liverpool Grove Walworth and a workshop
Ed Gray lecturing students from the School of Visual Arts New York
Red Box Project
A framed imited edition print of Ed's Liverpool Grove painting was the raffle prize at Walworth History Festival, raising much needed funds for the Red Box Project Walworth which provides free access to menstrual protection.
Local gent Reg was delighted with his raffle prize.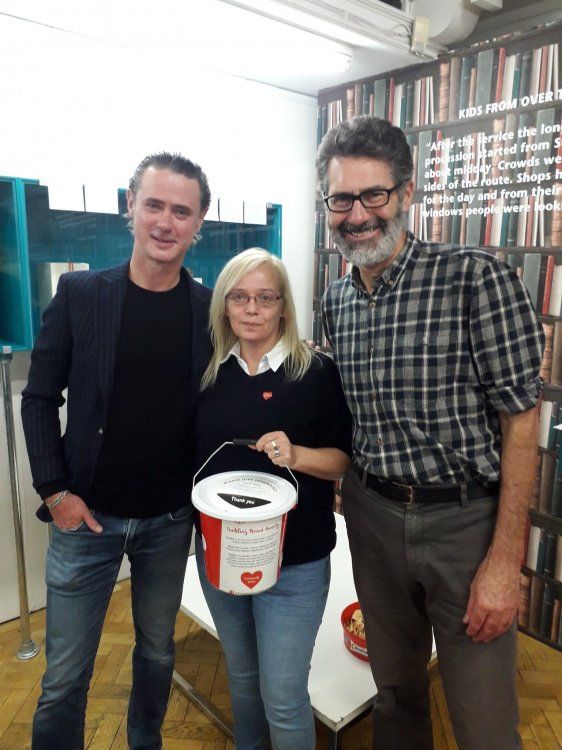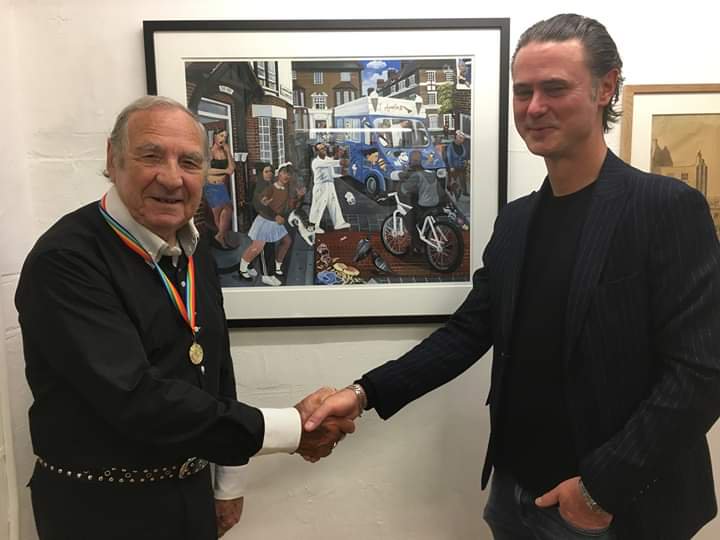 Teenage Cancer Trust
Thanks to the generosity of Paul Weller fans sales of Ed Gray's limited edition print Movin' On created from his painting for the Movin' On video has so far raised £1700 for Teenage Cancer Trust.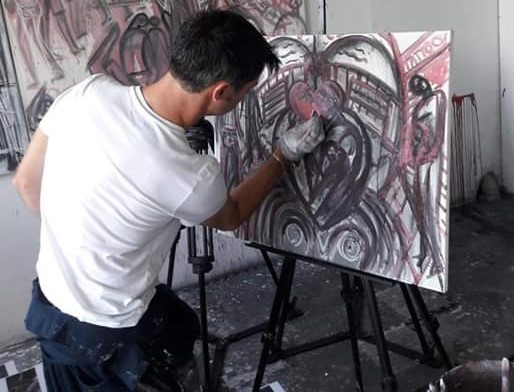 'It was an honour to make this video for Paul Weller. I'm so pleased that the generosity of Paul Weller fans has raised this amount for the Teenage Cancer Trust'
Read Ed's blog here about the making of the video. Prints are still for sale with 60% of the sale price after costs going to Teenage Cancer Trust:
https://www.edgrayart.com/blog/movin-on-making-a-painting-for-a-paul-weller-video-and-a-limited-edition-print-for-the-teenage-cancer-trust/
Limited edition print of the painting Movin On 
https://www.edgrayart.com/shop/movin-on-love-all-around-walworth-road-for-paul-weller/
PAUL WELLER'S LATEST MUSIC VIDEO GIVES WALWORTH A STARRING ROLE https://www.southwarknews.co.uk/news/paul-wellers-latest-music-video-gives-walworth-a-starring-role/ March 2018, St Matin in the Fields: The Passing Show: Adoration Paintings of London by Ed Gray https://www.stmartin-in-the-fields.org/event/passing-show-adoration-paintings-london-ed-gray/
March 2018, The weekender: Adoration Paintings of London: Artist Ed Gray's never-ending quest to document the capital: https://www.weekender.co.uk/articles/uncategorised/adoration-of-an-artist/
March 2018: Londonist: Ed features in London's most talked about exhibtions by Tabish Khan https://londonist.com/london/art-and-photography/london-s-most-talked-about-art-exhibitions
March 2018 Art Rabbit Ed Gray New London Monochromes https://www.artrabbit.com/events/ed-gray-the-passing-show-new-london-monochromes
August 2017 Ed Gray Artist Spitalfields Life by the Gentle Author http://spitalfieldslife.com/2017/08/21/ed-gray-artist/
March 2017 Ed features in 'For the love of London' by Conrad Gamble https://g.co/kgs/n93fyF
July 2016 Londonist: London characters Abound in these paintings by Tabish Khan  https://londonist.com/2016/07/ed-gray-s-londoners-are-back
July 2016  I live in SE16:  Ed Gray Self Employed Artist https://iliveinse16.com/ed-gray-self-employed-artist/
​Southwark News:
http://www.southwarknews.co.uk/lifestyle/capturing-londons-essence-rotherhithe-artist-ed-gray-show-works-capital/
April 2016  Floating Worlds: Press release
October 2015.  Artist Ed Gray and the Hogarth Collection for Dr Martens/ Sir John Soane Museum: http://www.soane.org/features/artist-ed-gray-and-hogarth-collection-dr-martens
Sept 2015: Press release London's Brilliant Parade
July 2015 Arsenal Football Club Magazine: The Arsenal magazine
May 2015: Press release Viking Gallery, Margate
May 2015: Southampton Solent University Fine Arts Undergraduates interview  https://m.youtube.com/watch?v=IY09oSm99lE 
May 2015: Southampton Solent University Fine Arts Undergraduates interview Teaching career and residencies: https://m.youtube.com/watch?v=dvy8MaByfnQ
October 2014 BBC Radio London Listed Londoner Robert Elms Show  : http://www.bbc.co.uk/programmes/p028993n
October 2014 Dulwich on View 22.10.14: http://dulwichonview.org.uk/2014/10/22/ed-gray-at-gx-gallery-a-rare-opportunity/
October 2014 South London Hardcore Blog 05.10.14: http://www.southlondonhardcore.com/2014/10/episode-135-ed-gray.html?m=1
September 2014 Londonist 'Ed gray's Rennaissance Inspired Paintings of London' by Matt Brown https://londonist.com/2014/09/ed-grays-renaissance-inspired-paintings-of-london
November 2013 Huffington Post by Jason Holmes : http://www.huffingtonpost.co.uk/jason-holmes/ed-gray-artist-london-has_b_4274226.html?utm_hp_ref=uk-entertainment&ir=UK+Entertainment​
June 2013 London Art Net 03.06.13: http://london-art.net/interview-with-ed-gray
November 2012 Ebb and Flow on board the Dixie Queen Tower Bridge by Tabish Khan 04.11.12: https://londonist.com/2012/11/art-preview-ed-gray-ebb-flow-aboard-the-dixie-queen
January 2012 La Prisma 'Telling the story of London through paintings' by Eugenio Blanco La Prisma 16.01.12: http://www.theprisma.co.uk/2012/01/16/una-esencia-hispanica-en-gran-bretana/
Febrary 2012 Evening standard: Evening Standard Food Magazine
December 2011 Londonist 'London Souls Exhibtion' at St Pancras Crypt http://londonist.com/2011/12/art-preview-london-souls-the-crypt-gallery-st-pancras
October 2011 Londonist Paintings Of London And Londoners @ GX Gallery
October 2011 DailyTelegraph : Fly-on -the-wall painter Ed Gray celebrates the industry, passion …
July 2011 West End Extra Artwork unveiled at Bar Italia by Actor Rupert Everett  http://archive.westendextra.com/news/2011/jul/artwork-unveiled-bar-italia-actor-rupert-everett-features-ed-grays-caf%C3%A9-painting
​October 2009 Artists And illustrators https://www.edgrayart.com/ArtistsandIllustrators.htm
July 2009  New York Times ​FIFA Commission : New York Times
June 2009 Living South: Living South