Workshops
Enquire about booking Ed Gray here info@edgrayart.com for workshops, talks and events
' Art is central to my love and understanding of life. I've been lucky enough to work in arts education for 27 years, initially as a volunteer in youth clubs and then as a PGCE trained teacher. For the last 20 years I've been a freelancer in public institutions, working with all ages from primary pupils to MA level students in the UK and abroad. I am interested in creative thinking because I have  first-hand experience of the difference it makes to people's lives in diverse community settings and prison education.
I work as a resident artist on specific bespoke art projects made in collaboration with partner institutions. I am interested in the concept of art as a cross-curricular creative experience within school settings.I also lecture and give talks about Art and The City for educational institutions and corporate events'. 
Ed Gray
Education,Training and Teaching Experience
​Ed Gray has a diploma in Fine Art Foundation and a BA Hons in Fine Art. He began volunteering in the art room in a south London youth club and ran workshops for Magic Me and worked as a Notting Hill Carnival designer for M2K Mas Band before completing his PGCE and QTS in 1998. Ed taught Art and Design for five years in a secondary school in Peckham and has over 27 years of experience teaching and lecturing about art and creating and curating exhibitions for primary and secondary schools, colleges, adult education, universities, galleries, museums and public institutions.
Clients have included FIFA , Sir John Soane's Museum, Dr Martens, Dulwich Picture gallery, Tate, Royal Drawing School,  Masterworks Foundation, Guga S'Thebe Arts Centre Cape Town, Masterworks Museum of Bermuda, City Hall, Thames Festival, Thames Luxury Charters, The Gherkin 30 St Mary Axe, Float Art Fair London, Southampton Solent University, University of Connecticut London, Queen Mary's University London,  HMP Belmarsh YOI, Walworth History Festival, 2Inspire Youth Centre, National Museum of Football Manchester.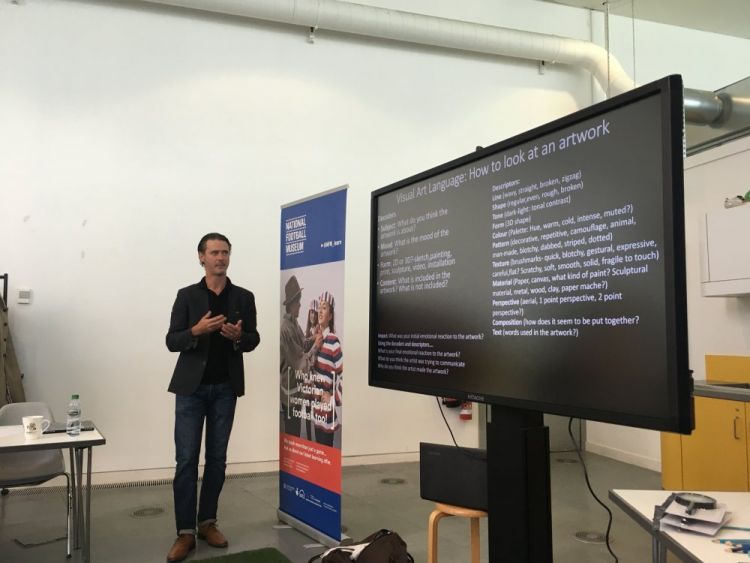 National Museum of Football Manchester INSET workshops: Ways Of Looking at Art  and The Art Of Sport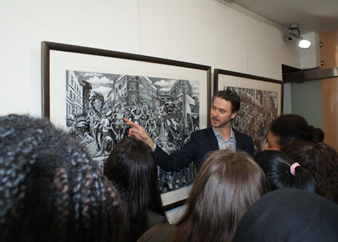 Southwark Secondary Schools Artist Talks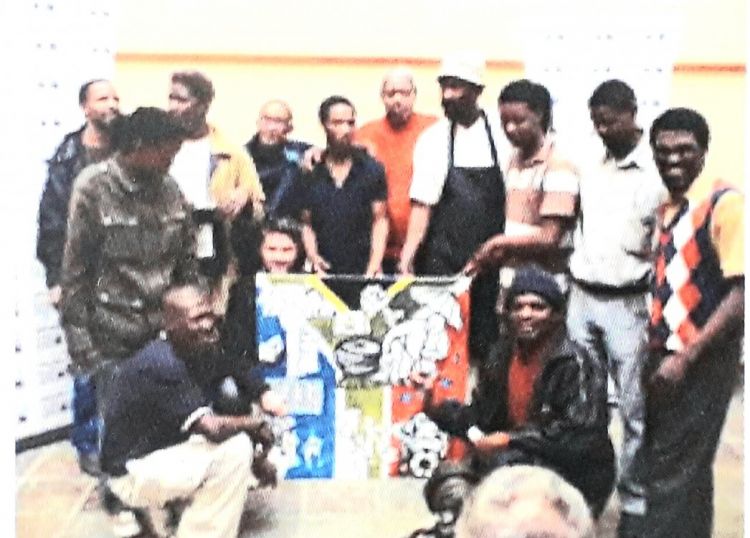 Langa Township Cape Town Art Workshop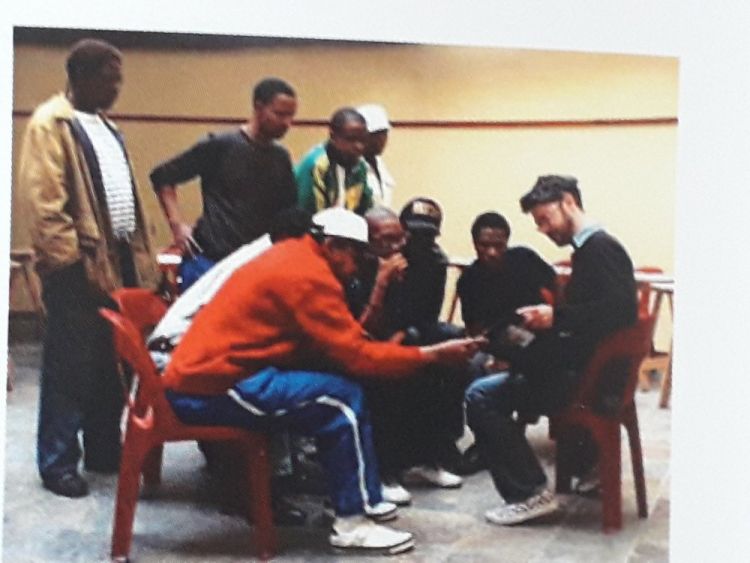 Langa Township Cape Town Art Workshop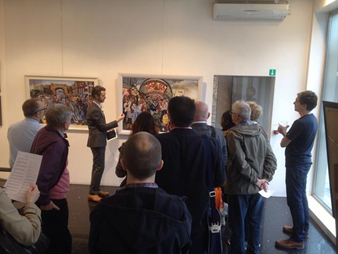 Gallery Talk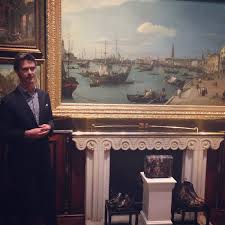 Lecturing about Hogarth for Sir John Soanes Museum London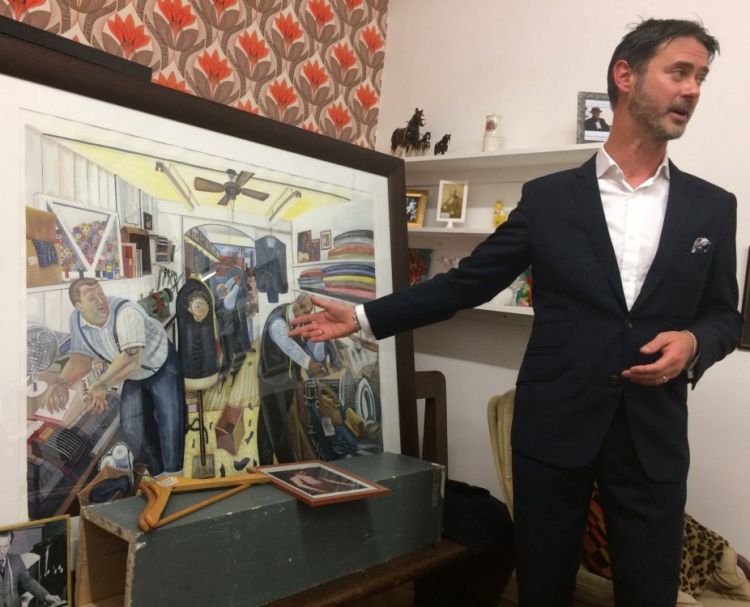 Walworth History Society Talk 
Primary School Testimonials
"Our school has been privileged to work with Ed for the last three years as an artist in residence. He worked with Key Stage 2 pupils on a 3D modelling project to create a 'jungle' of endangered species which captured the children's imagination. With Ed's careful guidance and gentle encouragement the children explored a range of media to produce amazing models. Ed also ran a fantastic urban drawing and painting project called 'Portait of Peckham'. Subsequently when we were looking to regenerate our playground artwork we knew Ed would be the best person to work with. Our children were inspired by Ed's artwork and learnt life drawing skills and perspective under his thoughtful instruction. The stunning murals the children produced in collaboration with Ed truly represent the daily experiences of our school and reflect our values beautifully. Our children were thrilled to have contributed to such a legacy thanks to Ed."  JM Deputy Head Teacher St Mary Magdalene School, Peckham, London
'I like art more now that I know about narrative and how to tell a story in a painting.' Richard Year 5 Pupil Boutcher School Bermondsey 'A Bermondsey Progress Painting Project'
'It really was fabulous! I am incredibly proud of what they have achieved. They have discovered a new-found love of art.'  Boutcher School Year 5 Class Teacher Lorna 'Boutcher & Co.William Morris Project'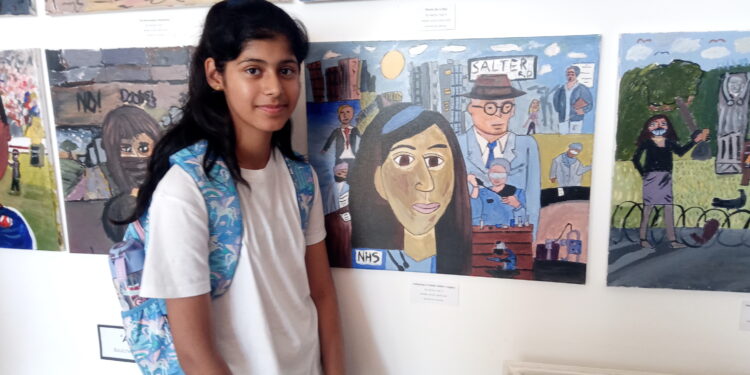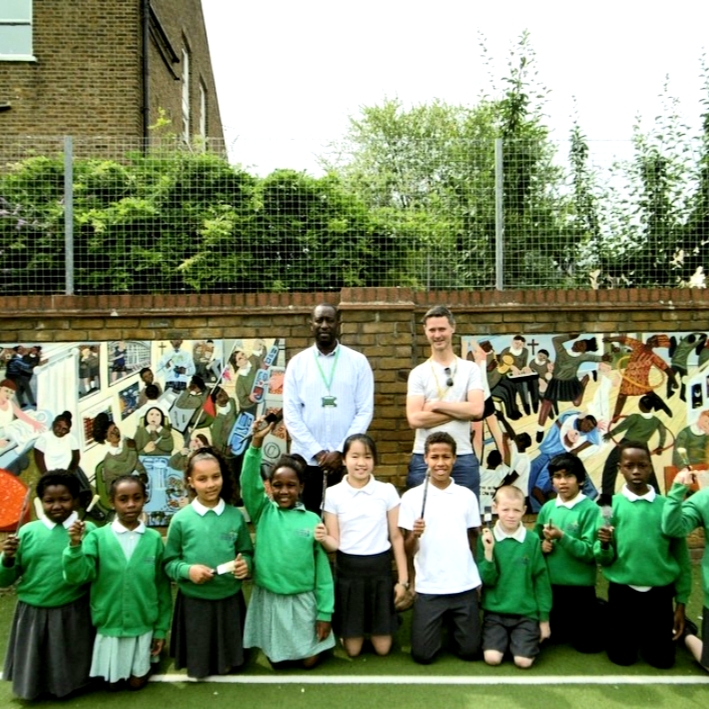 University Testimonial 
"Highlights of Ed Gray's guest lectures are his recalling of  the inspiration that informs his paintings and his passion for the character of the city –  its people, its moods and its everyday occurrences. He speaks eloquently on the techniques of great artists in history and how he applies these to his own visual narratives of the contemporary urban scene. Ed has the gift to talk about these things in a way that can be understood and appreciated by all. That makes him a fine teacher at every level and a valued collaborator."  Dr.

Jill Fenton PhD Associate Lecturer in Human Geography, School of Geography, Queen Mary University of London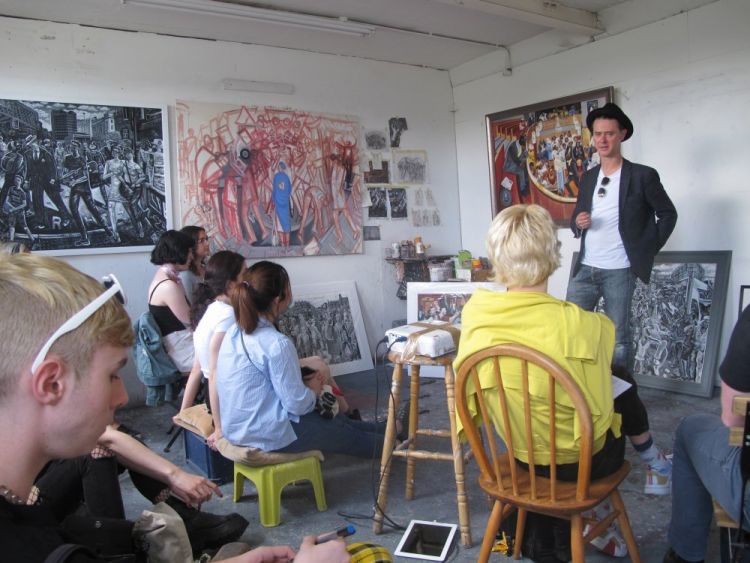 Studio visit from School of Visual Arts New York
Museum INSET Testimonials 
'The Artist V Athlete perception and the similarity in their process – really insightful. I think it shows you can link art to any subject. Also the Visual Art Language – I will look at art more analytically now!' 
'I wasn't aware of how extensive our museum collection was'
'Ed's approach very clear, inclusive, friendly, and non threatening and therefore ultimately very useful'
'Great to have the opportunity to attend training focused on a specific area of the collection and linked to an exhibition; great to have this offered 'in-house' and for all departments. It was really good to see staff from other departments engaging with collection & exhibition'
'Made me feel they wanted me to have as much knowledge as possible to do my job'
'It has made me feel privileged and important within the team'
'Ed's approach very clear, inclusive, friendly, and non threatening and therefore ultimately very useful'
'Adapted content to the audience really well – very supportive"
'Really knowledgable, approachable, friendly, encouraging. A great teacher'
'I had some art knowledge beforehand, but this has refreshed and expanded on that and I feel re-inspired!'
'I can pass art knowledge onto Museum visitors.
I've never really spent much time looking at art before'
'The 2 page crib sheet was good, makes you think more than the superficial'
'It's a rare opportunity for me to be included in a course that isn't about business critical stuff eg. Health and safety'
Sample workshops for primary and Secondary Schools and Colleges: Key Stages 1-5 and FE
Drawing- materials and techniques
Observational drawing
Painting: brush skills, mark making, colour theory
Urban drawing and painting
Creating compositions
Museum and gallery stimuli- research skills
Clothed life-drawing for primaries/secondaries
Life sculpture- 3D modelling, maquettes, modroc, clay, paper mache
2D into 3D and back into 2D
Contextual studies- art history
Studio visits
Professional skills
Sample Lectures,Talks and Workshops for Schools,Colleges, FE, HE and Corporate Clients
INSET Training: Creativity in the Classroom- Using art as a stimulus for cross curricular learning
INSET Training: Concepts and Conceits: Ways of Looking at Art
We Are Creative: The Least important Most Important Thing of All
William Hogarth: The First Modernist
Dissecting Georgian Society: Hogarth, Soane and the Picture Room
Hogarth at the National Gallery
Watching Watchers Watching the Watched:The Spectacle of Adoration Scenes at the National Gallery
Social and Urban Painters: Hogarth, Lowry,  Shahn, Lawrence, Bellows, Burra, Motley, Neel, Eardley, Mcfadyen, Perry
Professional Skills for Art Students
Capturing the Crowd: Urban Drawing and Painting- practical workshop
Dynamic Life Drawing: Drawing moving figures- practical workshop
Feeling the face: Portraiture workshop- practical workshop
Watch Ed's Artist's Talk for GX Gallery….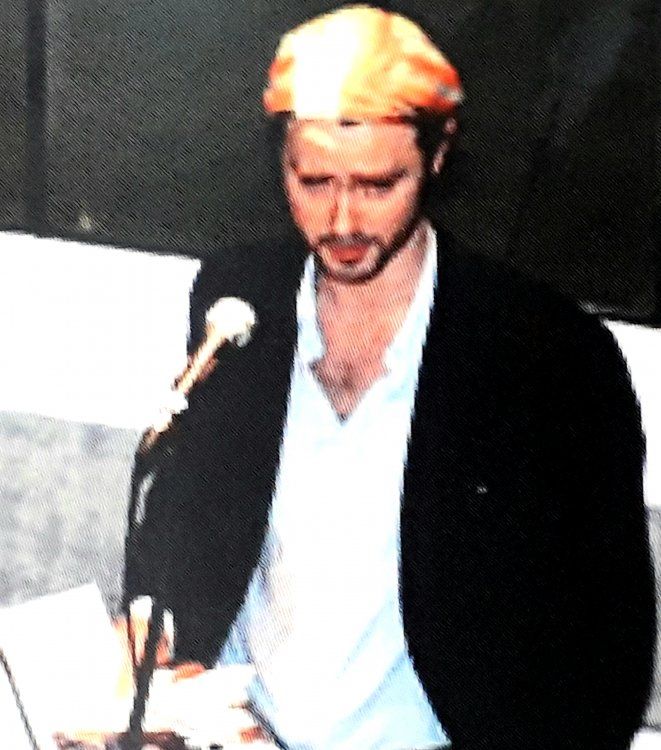 City Hall launch of The Mayor's London & Londoners Art Exhibition curated by Ed in 2010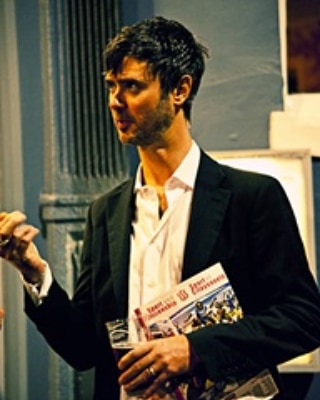 Speaking at GX Gallery exhibition launch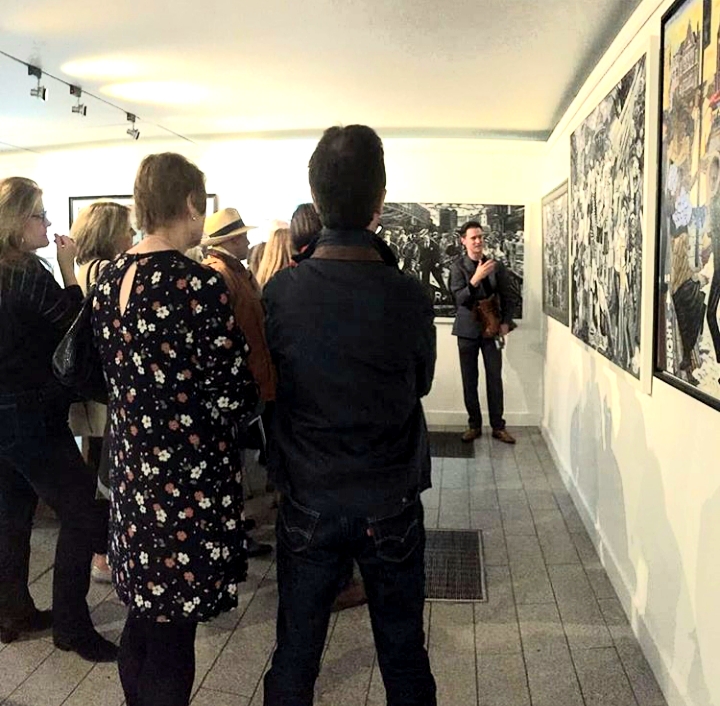 Gallery talk St Martin's in the Fields London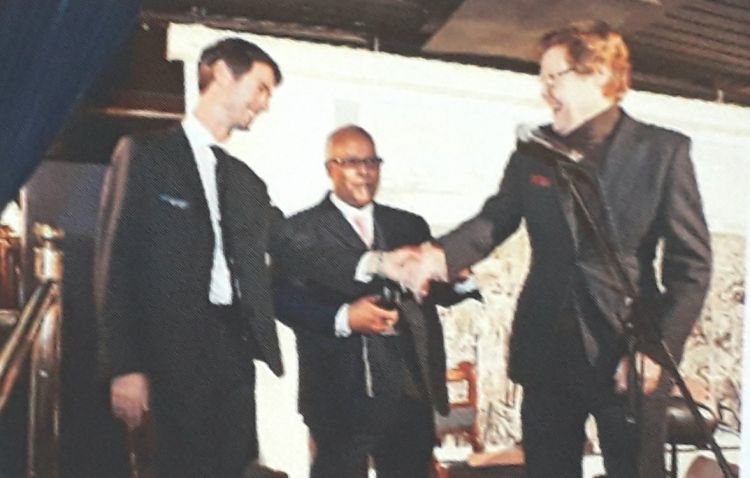 Exhibition launch for Thames Luxury Charters with journslist and broadcaster Robert Elms and George Dyer Threadneedlman Tailor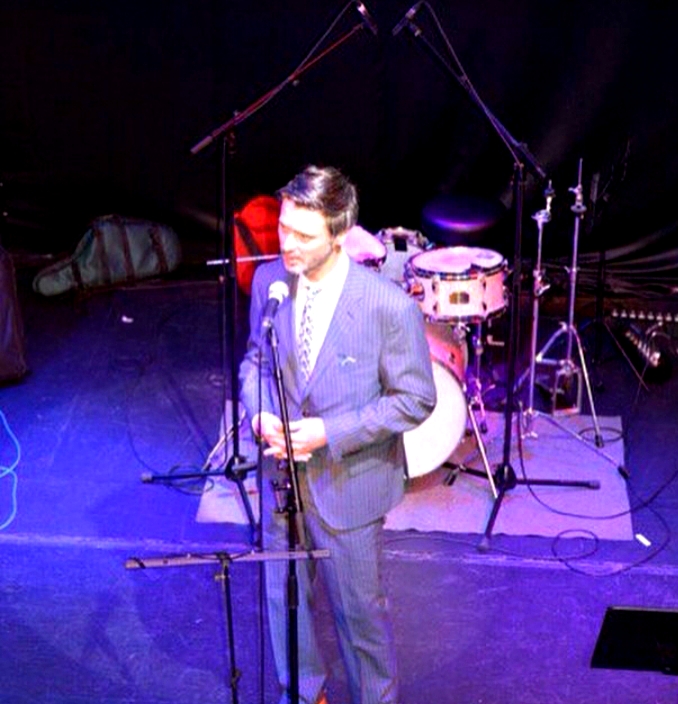 Speaking at RichMix London launch for Ed Gray: Londonessence 'A London Entertainment'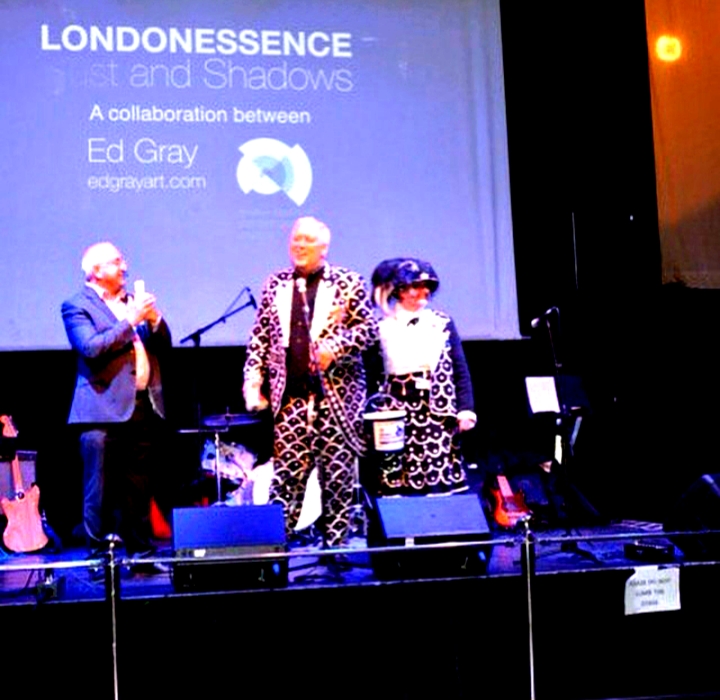 RichMix London Launch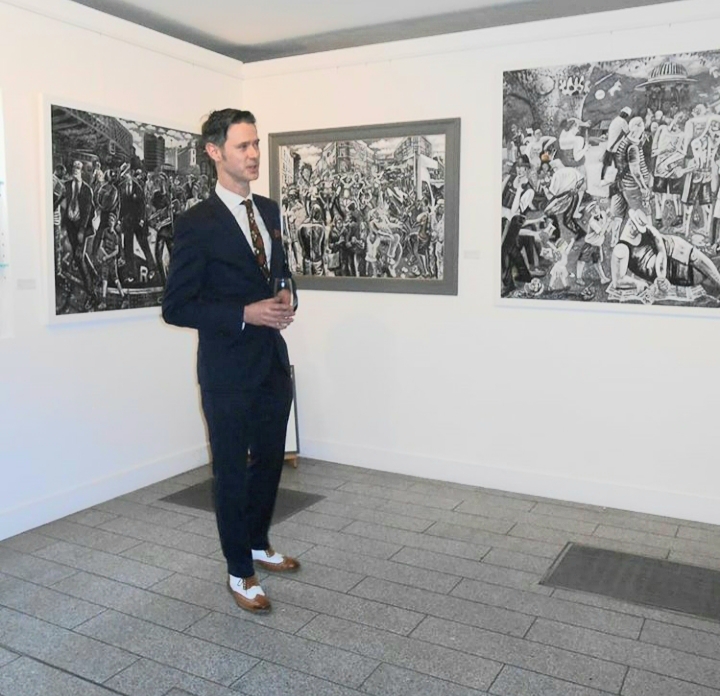 Speaking at St Martin's In The Fields Exhibition Launch 
'Life as a working artist' Art Career Interviews for University Of Southampton Students