Press Release
Ed Gray: First resident artist at Viking Gallery, Margate as part of new partnership with GX Gallery, London.
'Metropolitan Drift: Paintings of London Life'
The Viking Gallery, Viking House, Cliftonville, Margate, CT9 2AH
Opening Times: Thursday to Sunday (12 – 6pm)
Exhibition: 16 – 31 May 2015
Open Afternoon: Saturday 16 May 2 – 6pm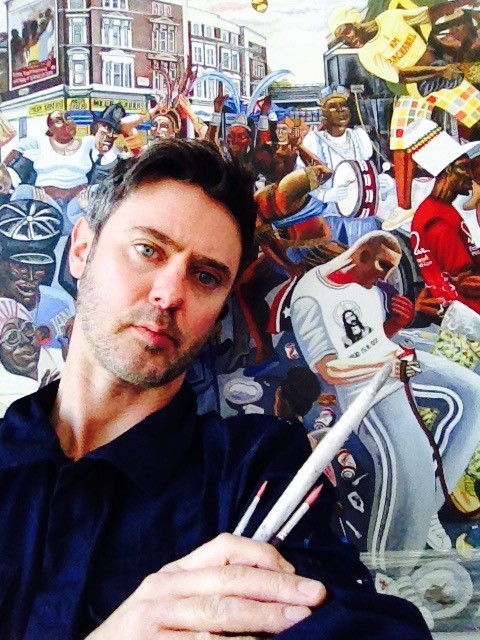 GX Gallery London in partnership with Viking Gallery Margate is pleased to present Metropolitan Drift: Paintings of London Life. This new exhibition by Ed Gray features original works and limited edition prints.
Ed Gray's gritty contemporary paintings of London Life revel in the people, places and mythology of the city. A drifter and a rover at heart, Gray fills his intense paintings with images recalled from his urban sketches.
'Gray's paintings explore the myriad facets of the bustling metropolis' (The Daily Telegraph)
For more information or images, please contact:
Rod Murray
020 7703 8396
Notes to Editors:
Ed Gray will be signing copies of his latest catalogue 'Rock of Eye: Ed Gray Painter of City Life' at the Opening Afternoon on Saturday 16 May, between 2– 6pm.
Ed will also be holding a day of free talks for school and college groups at Viking Gallery, contact info@GXGallery.com for availability and booking.
Ed Gray achieved BA (Hons) Degree in Fine Art at Cardiff Institute, University of Wales. He has been represented by GX Gallery since 2004 where he continues to have sell out exhibitions. Gray has exhibited widely including exhibitions at GX Gallery, London; City Hall London, Thames Festival, OXO Gallery London, Crypt Gallery St Pancras, and Searcys at the Swiss Re Building. In 2001, he was awarded a fellowship to the Masterworks Foundation of Bermuda. He has lived and painted in New York, Mexico, Tokyo and Bangkok and in 2009 he was commissioned to visit South Africa for the FIFA 2010 Fine Art global touring football exhibition. His work is included in various Public institutions including Swiss Re Building, Tate Britain Archive and Masterworks Gallery of Bermuda. Gray has also lectured at a wide range of art colleges and public institutions including, The National Gallery, London; Sir John Soane's Museum London, Chelsea Collage of Art (UAL), London,  University of Connecticut, University of Southampton Solent.
GX Gallery, established in 2001, is a contemporary commercial gallery in London. The gallery has a regular programme of solo and group exhibitions and exhibits at art fairs. GX Framing (www.gxframing.com) offers museum-quality bespoke framing. Location: GX Gallery, 43 Denmark Hill, London, SE5 8RS
The Viking Gallery is a newly refurbished art space in in Margate's up-and-coming Cliftonville. The gallery exhibits contemporary artists, from emerging to established, local to international. The gallery is a short walk from the seafront and local attractions including the Turner Contemporary and the Walpole Bay Hotel.
Location: The Viking Gallery, Viking House, Cliftonville, Margate, CT9 2AH
Opening Times: Thursday to Sunday (12 – 6pm)