Press Release
'Floating Worlds: Paintings from Mexico, New York, Tokyo, Bangkok and London'
Ed Gray @Zari Gallery
8-28 April 2016
73 Newman Street, London, W1T 3EJ. Tel: + 44 207 6373544. Email: info@zarigallery.co.uk …
http://www.zarigallery.co.uk/event/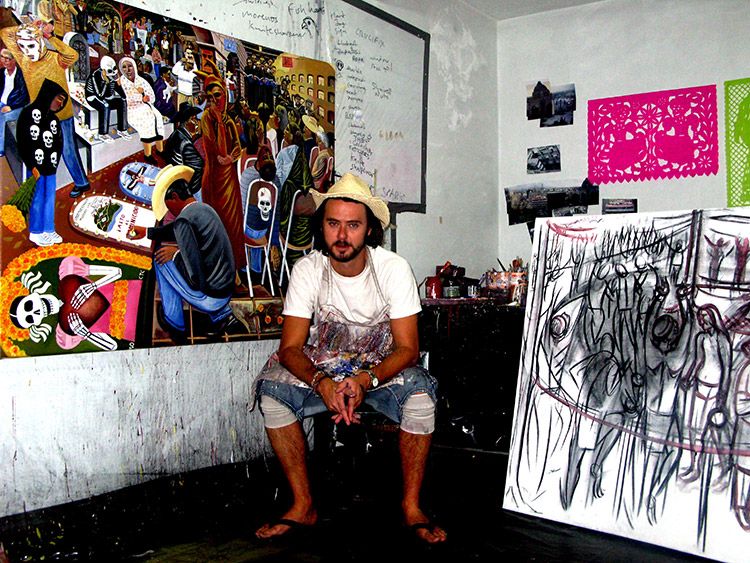 This exhibition chronicles the most important period of development for my artistic practice – a time when I began to be guided solely by what caught my eye.
In 2008 I began to feel that my studio practice in London was taking over from the real act of drawing firsthand in the streets. I needed to shake the dust off my wings and rediscover my love of drawing. Symbols of flight, wings and birds began to creep into my paintings and I started to look at the diversity of nationalities around me and wonder about the places these people had left behind. A long held desire to return to Mexico took hold of my wife Ingrid and myself and we found ourselves packing up and relocating to Mexico City and Oaxacca for six months. It didn't really matter which city or which country we went to, I just wanted to experience new people in new cities and walk the streets with my sketchbook, pencil and sharpener. This desire to experience cities and their inhabitants took root and we continued to fly on, setting up studios in Bangkok, Tokyo, San Francisco, LA and New York. We returned to London in 2009 only to set off again as I was commissioned to make some work about the 2010 World Cup in South Africa. The resulting paintings from these years celebrate the human search for pleasure within the constraints of our brief lives here on earth.
The phrase 'Floating World' or 'ukiyo' describes the urban lifestyle, especially the pleasure-seeking aspects, of Edo-period Japan (1600–1867).
The word 'ukiyo' is also an ironic allusion to the homophone 'ukiyo' or "Sorrowful World", meaning-the earthly plane of death and rebirth from which Buddhists seek release.