London's Brilliant Parade
PRESS RELEASE
London's Brilliant Parade:
​New limited edition London prints by Ed Gray
Ed Gray's gritty contemporary paintings of London Life revel in the people, places and mythology of the city. A drifter and a rover at heart, Gray fills his intense paintings with images recalled from his urban sketches.
This exhibition will feature highly collectible Giclee prints from the Ed Gray Art Limited Edition Print Collection featuring scenes of everyday life. It promises to be a true celebration of London and Londoners, capturing the raw emotion of city living and tempered with warmth and humour.
'Gray's paintings explore the myriad facets of the bustling metropolis' – (The Daily Telegraph)
'The real magic of Ed Gray's work is that he doesn't seek to tame the city. Ed's art doesn't freeze the teeming streets, but unleashes all their kinetic wonder. These are not still lives, but motion pictures. And if Ed paints movies, to me they are musicals; buzzing with jazz and the glorious accidental choreography of crowds.' – (Robert Elms, BBC Broadcaster)
Ed Gray achieved BA (Hons) Degree in Fine Art at Cardiff Institute, University of Wales. He has been represented by GX Gallery since 2004 where he continues to have sell out exhibitions. Gray has exhibited widely including exhibitions at GX Gallery, London; City Hall London, Thames Festival, OXO Gallery London, Crypt Gallery St Pancras, and Searcys at the Swiss Re Building.
His work is included in various Public institutions including Swiss Re Building, Tate Britain Archive and Masterworks Gallery of Bermuda. Gray has also lectured at a wide range of art colleges and public institutions including, The National Gallery, London; Sir John Soane's Museum London, Chelsea Collage of Art (UAL), London, University of Connecticut, University of Southampton Solent.
In 2001, Gray was awarded a fellowship to the Masterworks Foundation of Bermuda. He has lived and painted in New York, Mexico, Tokyo and Bangkok and in 2009 he was commissioned to visit South Africa for the FIFA 2010 Fine Art global touring football exhibition. In 2014, Gray's exhibition, "LondonEssence: Adoration", featured at The Gallery@Oxo in The Oxo Tower Wharf on South Bank, London. In the same year, he was invited to give a talk, "William Hogarth Urban Painter", at Sir John Soane's Museum, London.
He was awarded Listed Londoner status by BBC London in 2014. Gray's work has featured in the New York Times, Evening Standard, Guardian and Daily Telegraph.
He was recently featured in the Official Arsenal magazine, which included an image of his work, " Adoration at the Emirates' Matchday at Arsenal'". This piece will be included in the exhibition at the Searcys Club.
Each print showcased in the exhibition is signed and numbered by the artist.
From September through to Christmas, Gx Gallery is delighted to offer Searcys Members a 10% discount on framing and multiple orders.​
https://londonist.com/2015/10/see-ed-gray-s-london-prints-up-the-gherkin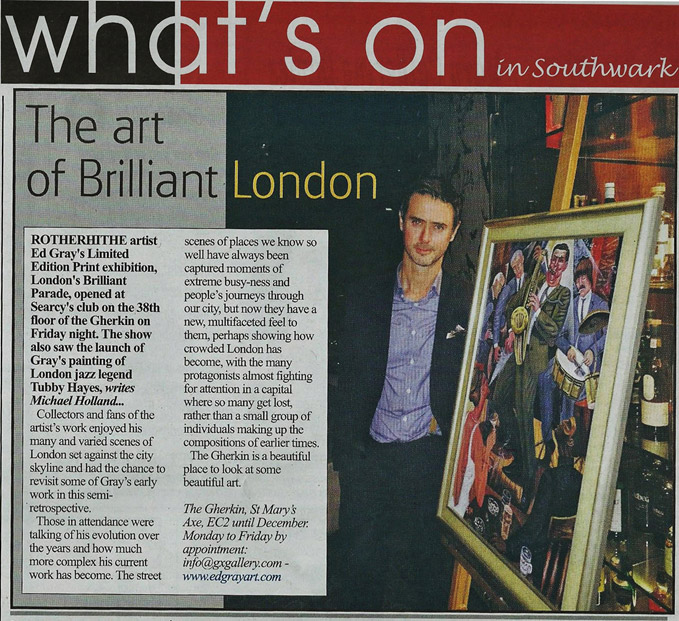 ​GX Gallery, 43 Denmark Hill, London, SE5 8RS
T: 020 703 8396
E: info@gxgallery.com
For enquiries about Ed Gray's prints or original works, please contact GX GalleMeet the artist: Ed Gray will be giving an artist talk in October and exhibiting at GX Gallery early next year (3 March to 2 April 2016). Please contact the gallery for more details.