Mind Out Of Time
Cape Town, Mexico City, Thailand, New York, London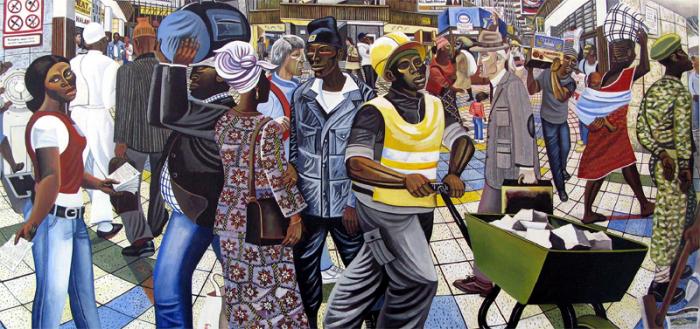 To be opened by Simon Hughes MP
Tuesday 8 June 7pm, Shortwave Cinema, Bermondsey
A short film of a year in Ed Gray's work, exhibitions, travels and experiences by journalist and film-maker Michael Holland, will be screened at
Shortwave Cinema,10 Bermondsey Square, SE1 3UN.
The screening will be followed by a Q&A session with Ed Gray and Michael Holland.
What happens to an artist when he returns to his muse after being away from her for so long?
"For me this show is about disconnection and reconnection. I've opened myself up to so much inspiration via a pencil and a sketchbook, to so many people across the world over the past year. I lived and experienced the world through drawing. Now that I have returned to my muse, the city of London, I am looking at the city in the light of those experiences. Like when you wake up from a dream and the images melt away slowly, I am rediscovering my love of London. This show is about coming home, coming full circle and my mind is out of time."
London painter Ed Gray has embarked on his latest exhibition at GX Gallery which documents his most ambitious year to date. Following six sell-out shows with GX and a tour of Japan, Mexico and the US, it is undeniable that Gray is already well on the way to establishing himself as a modern day Hogarth in his documentation of contemporary city life.
Gray is currently exhibiting in 'London & Londoners' at City Hall, which has provided a unique opportunity to bring together a collection of his London based work. He is also currently representing England in the official International Fine Art Collection for the 2010 FIFA World Cup South Africa™. His depiction of a Cape Town township football match will feature in a touring exhibition that will travel from South Africa to New York, Tokyo and London.
'Mind Out Of Time' is an exhibition of paintings and drawings depicting a year of change and development both professionally and personally for Ed Gray. 2009 saw the artist embarking on a 21st Century 'grand tour' of the homelands of his artistic heroes Hokusai, Hopper and Rivera and the influence of this life changing experience can still be seen in this new exhibition.
'Mind Out Of Time' will showcase new work from Gray's time in Cape Town for his FIFA commission, depicting his struggle with the difficult politics of the country contrasted against the enthusiasm and positivity of the World Cup. His paintings highlight the passion and unity which football inspires, though his depiction of the everyday lives of ordinary people against the backdrop of the World Cup cuts through the spin to reveal the heart of the country.
New work from Ed Gray's time in Tokyo will also feature in the show. These paintings have a very different feel, describing a completely contrasting culture which is harder to penetrate. Yet still the description of the minute of the experience of individual people helps to reveal similar complexity of human existence- a theme which unites all his work.
In his return to London Ed Gray has come home to view the city of his birth with different eyes. Sketches portray the city from a distance. A new feeling of space describes the landscape of the metropolis with the eyes of an artist re-assessing his position. Inhabitants of the city are viewed with a new curiosity, anticipation and uncertainty as Gray processes all he has seen and experienced over the past 12 months.