Beautiful Visions of the Art of Noise: Making Art for Music

Bring 'Em All In To My Heart
A treasured LP becomes a thing great beauty when artwork and sounds combine to create style. I've had the pleasure to collaborate or have my work featured on several albums, a DVD and a video over the years. This blog post is about that work and why I became interested in album cover artwork.
My first shrine to the temple of music was Putney Record Library. When I became old enough to venture out to the high street myself I'd head to the old Putney market and if the wind was chill then I'd head to the library. Always warm and full of unknowable endless information, I liked the carpeted muffled peace of the place and the shuffling engrossed regulars, the real old Putney characters.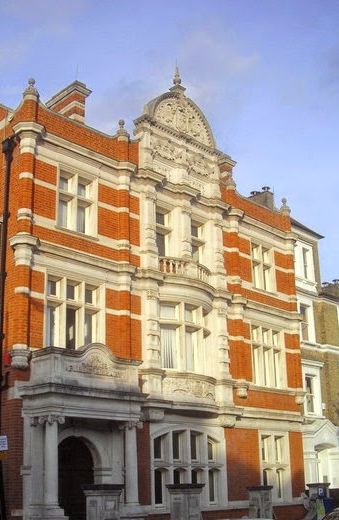 Metamorphosis
I discovered The Beatles aged 10, around the time that our Dad died. I remember my Dad saying how much he loved the song Here There and Everywhere. Somehow their music sounded both new and old simultaneously. I could see that there was much of the Music Hall that my Dad loved in their music. I devoured each album that I could get my hands on, the artwork first, then the crackle-slip of the vinyl catching the light and the click of the needle drop and the anticipation before the technicolor back-beat world rushed out from the record player speakers.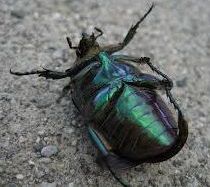 Solid Gold Second Sight
Around the same time it became apparent that myopia had very definitely fogged my world. I'd inherited my weak eyes from Mum. I remember her dismay when we stood on the platform at Tottenham Court Underground station and she asked me to check the destination of the next train on the sign above. 'What sign?' I said, realising at that moment that maybe I was missing something of the world. So that was why I'd always looked furtively across to see what my schoolmates were so busy copying from the blackboard. Later Mum took me to see an old gent of an optician in Roehampton and he opened a drawer full of frames. I recoiled from the the dense clumsy plastic frames, hinged harbingers of playground mirth, and caught sight- just about- of the golden glint of a pair of round Lennon specs. Those ones please. The words '9 ct. gold' were inscribed on the arms. Words that would gold-plate my image change against the tarnish of mockery that was surely coming my way, I imagined.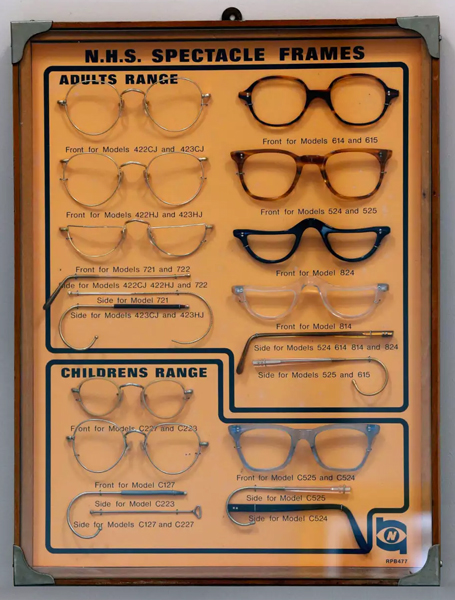 Year Zero
A reread of Hunter Davies led me to focus on Lennon's Year own Zero image change with cropped hair and granny glasses, leading to a somewhat rash decision to have my hair cut very short. Perhaps I was thinking if I make myself look totally unrecognisable then I would deflect all attention from my new thickly glazed specs. With my cold new head encased in a black beanie I borrowed an old army surplus green jacket from my brother and headed out on a regular basis to trawl for records at the Record Library. The librarians, serious monosyllabic men and women who knew about music, would take your chosen record with great ceremony, study it, note it's details down on dockets, unsleeve it, flip it, mark any previously un-noted scratches on a mysterious small circular shaped map of a vinyl album, tax you 20p and send you on your way, ears burning with anticipation, or too-tight hat. This reverential ritualistic performance occurred in silence, or possibly to the hum of soft classical string sounds preferred by the staff. Thanks to the record  library I soon discovered Madness and the Specials and Two Tone albums and my haircut seemed to suddenly fit better. I started to draw my own album covers for an imaginary band. Looking back they were a bit like The Hawks- a rockabilly band turned country folk funk- but with added New Romantic, ska and punk leanings. The Zoots were certainly a hard working band and they worked the scenes well. I was kept very busy after school and in maths lessons, designing their many album covers.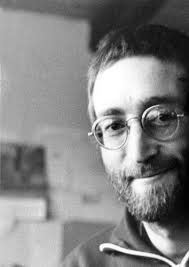 John Lennon in Year Zero guise
The Heart of Saturday Night
I should add that my older brothers and sister had wonderful record collections. There was some crossover when we were all living at home with Mum and on any Saturday night you could wander between bedrooms, between tribes, if allowed, and hear a different drumbeat in each. Rites of passageways. An album cover would be perused, liner notes studied, knowledge shared, an image noted, and then all ears back to the tune and tribal rituals in preparation for the night ahead. Here comes the night. Tribal costumes were revealed, face-paint drawn on, hair coloured, piercings adorned (they pierced each other once I recall, ice cubes, bloody cotton wool and TCP to hand), mists of perfume, hairspray and aftershave mingled with incense (of various kinds) burned and holy fermented apple water imbibed. Doors were then slammed shut and buses boarded in search of the craic and the crack of the pool ball, the neon buzzing. Now at last I was able to explore their record collections in peace. Tonight'll be like nothing you've ever seen…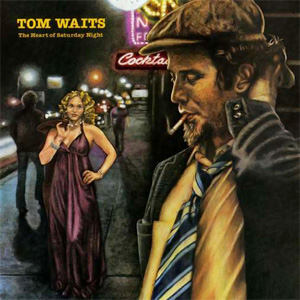 Formulative Ears
Here then was a complete experience of the holy trinity of formulae: I+C+F =S  Image + Content + Form= Style. I am indebted to my brothers and sister for sharing their records, knowingly and unknowingly and to my middle brother for enduring endless replays of Beatles albums in our shared bedroom space. My next discovery came in the form of a rich trawl of a bric-a-brac stall. I stumbled across someone's old record collection and bought Leonard Cohen, The Wailers' Burnin and some others for 10p each. I now had my own very small record collection, my own covers to flip, my own crackle and my own scratches to itch.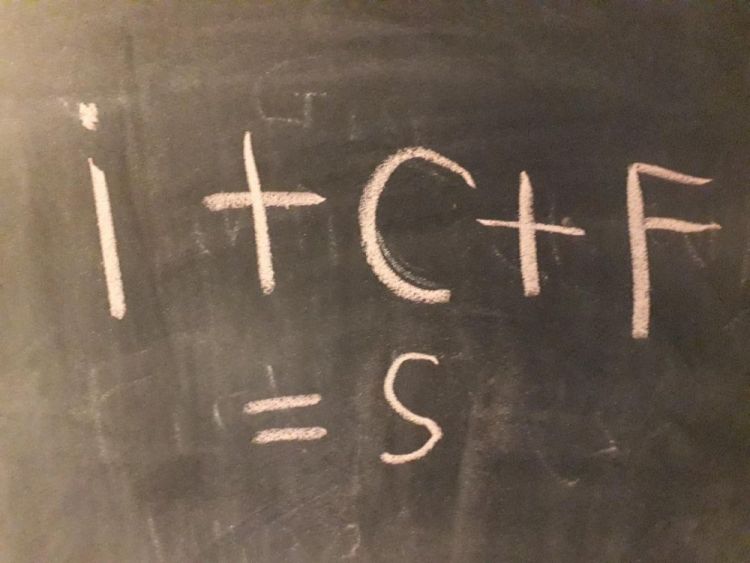 Lost in Music
Later in life I quit my nine to five and became a full time painter. Sometimes over the years I've been asked to create and collaborate on making art for album covers. Here is some of my album cover artwork and some covers that have inspired me along the way as I've lost myself in music.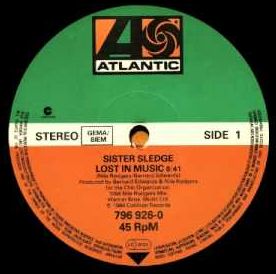 Audience
My painting of Brixton market used for the album cover of Paradise by the Stereo MCs reflects an my early love of the vibrant Greensleeves covers- the journey from roots music to sound system is beautifully realised in this cover and the audience is the conduit between the two sources of stories of enslavement, migration and history that ends and begins with a new journey under the WestWay. Music is the flow of ancestral ideas and stories, catching audiences in its waves and transporting them towards a new truth.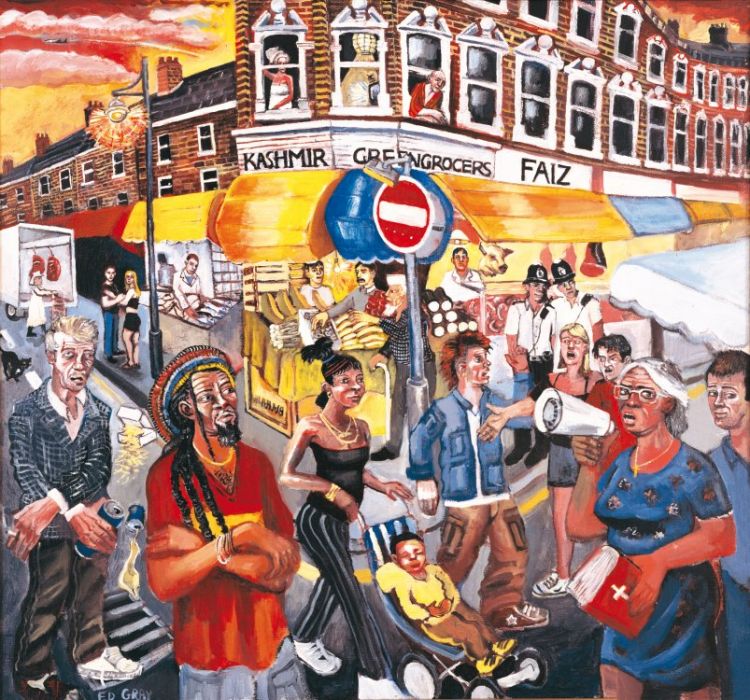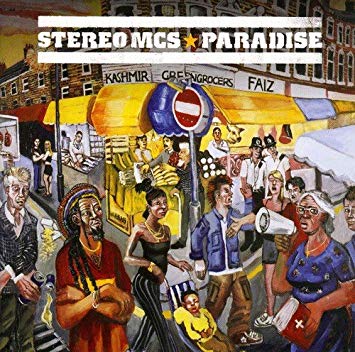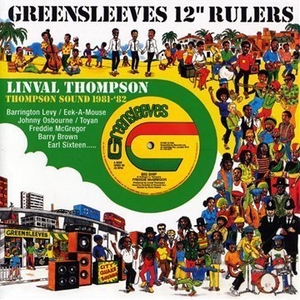 Groovy Times
My cover for MonoMedia's Tubby Hayes documentary 'A Man In A Hurry' is a composite of Tubby playing a Soho gig, possibly at Ronnie Scott"s, with his contemporary band members depicted in past and present time. This concept emphasises the quick musical pace that Tubby was famous for as well as his own tragic early demise, eternally middle aged, paused mid life while his music flows free.
Jazz album covers are a great source of inspiration and I've always loved the rhythmic energy of this Lou Donaldson cover by Reid Miles and the flattened space in Miles Davis Quintet's Relaxin' – the rhythms of the artwork enhance the music every time.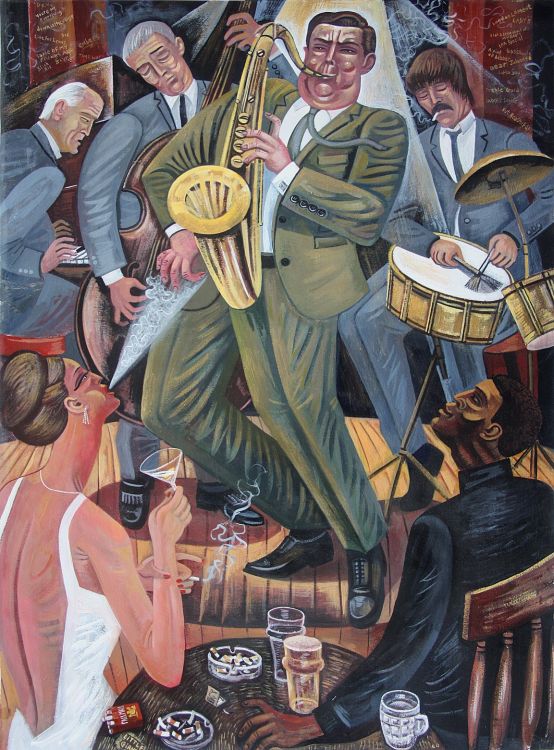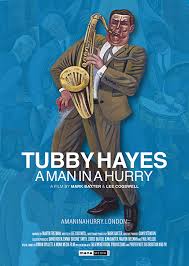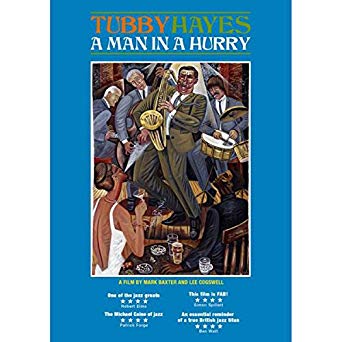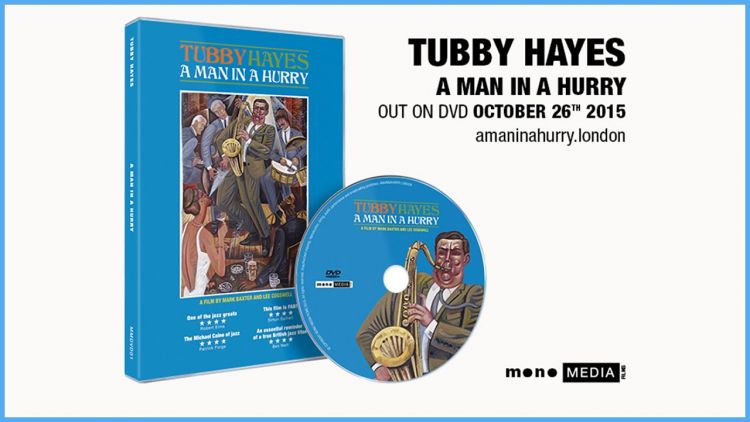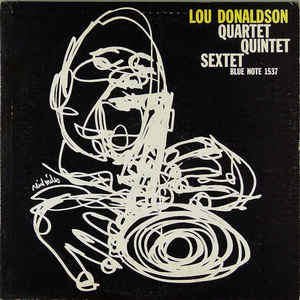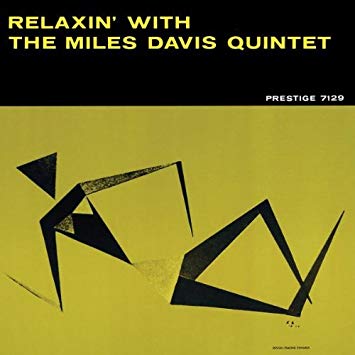 Venue /Arrival
The meeting point between musician & painter has always fascinated me. Both are grafting solitary loners backstage and hustling public performers when they arrive in the limelight. The David Bowie cover for Ziggy Stardust shows Ziggy glammed up in a filthy London backstreet guitar in hand, the Tom Waits photo for Small Change of a shared changing room full of sweat, smoke and a pre-gig mix of boredom and anticipation. Stagefright can often be the result of the conflicting contrast between the tranquil space of creation and sudden exposure at a venue. Here's my painting for Jimmy Cannon's big band album 'All to get her', a musician at the top of his game-transcending everyday hassles so that the audience can travel along for the ride- and a big band sound playing a regular gig at an intimate London jazz venue.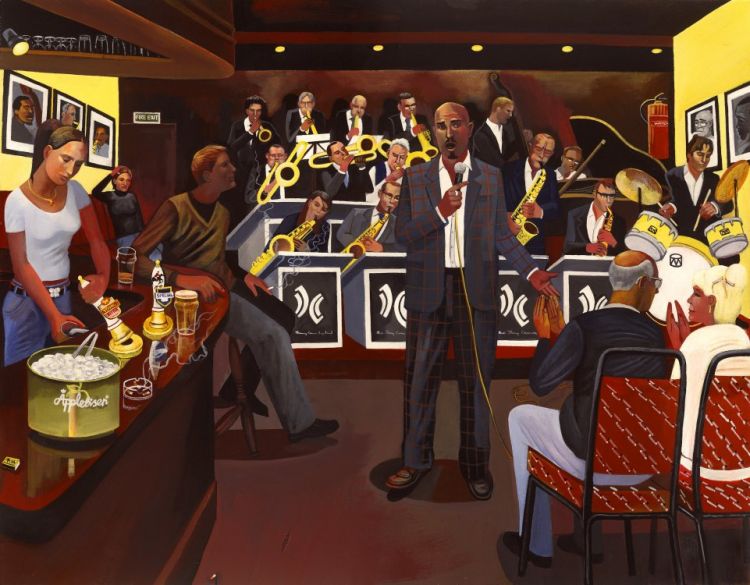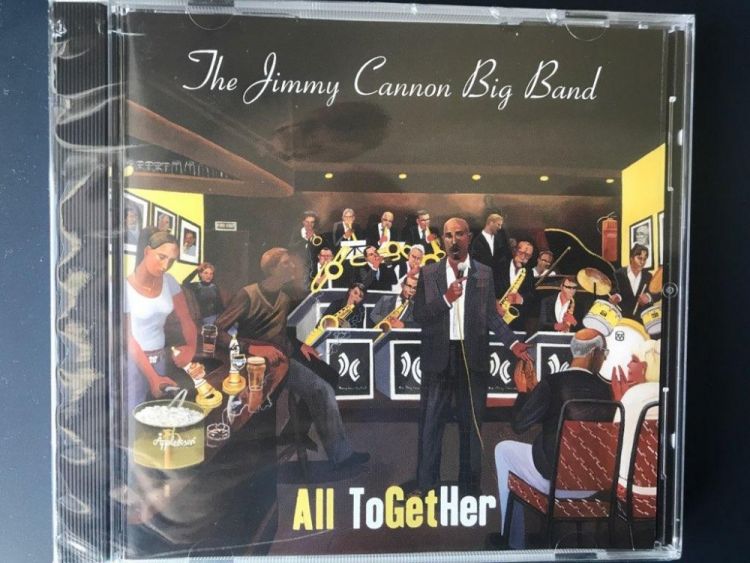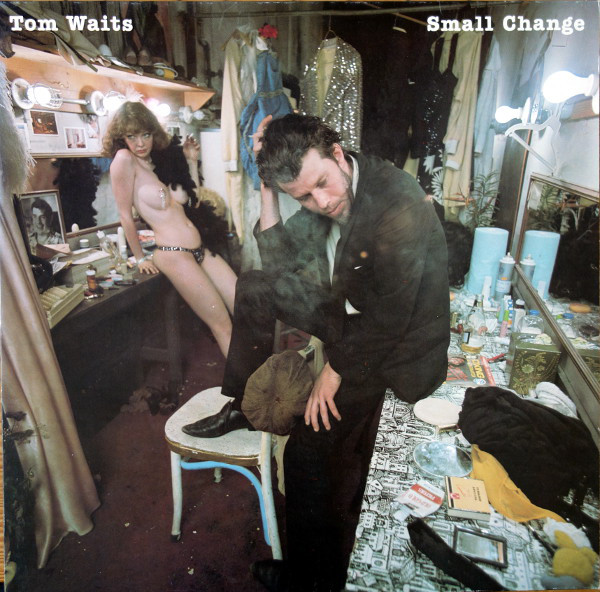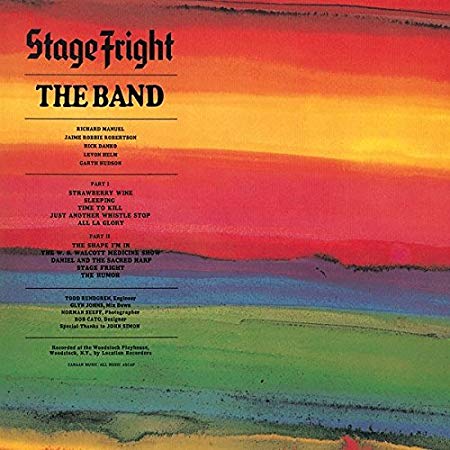 '…See The Man With The Stage Fright,
Just Standin' Up There To Give It All His Might.
He Got Caught In The Spotlight,
But When We Get To The End
He Wants To Start All Over Again'
Stagefright by The Band 
True Meanings
This painting was created for a Paul Weller video. I've always loved Peter Blake, a graphic painter, whose work sings out truth through his love of cultural iconography. Peter was a true friend of the late Ian Dury who put art & music together at the centre of his world. Chris Gabrin did the artwork for the album New Boots and Panties, taking the photo of Ian and his son Baxter outside Axfords underwear and lingerie shop at 306 Vauxhall Bridge Road, Westminster, not far from Victoria Station.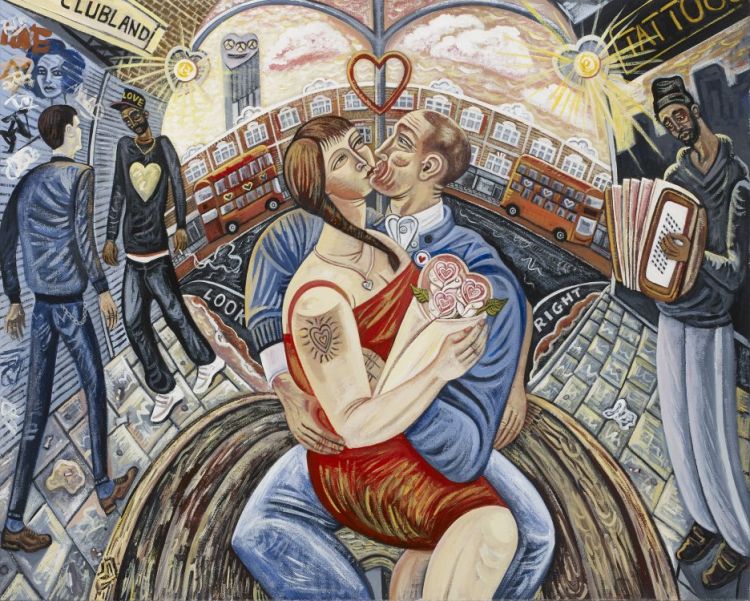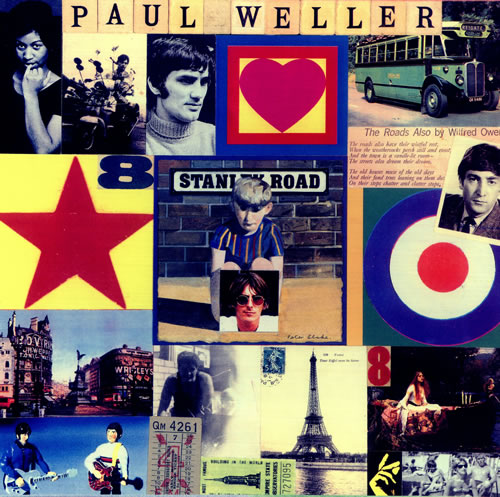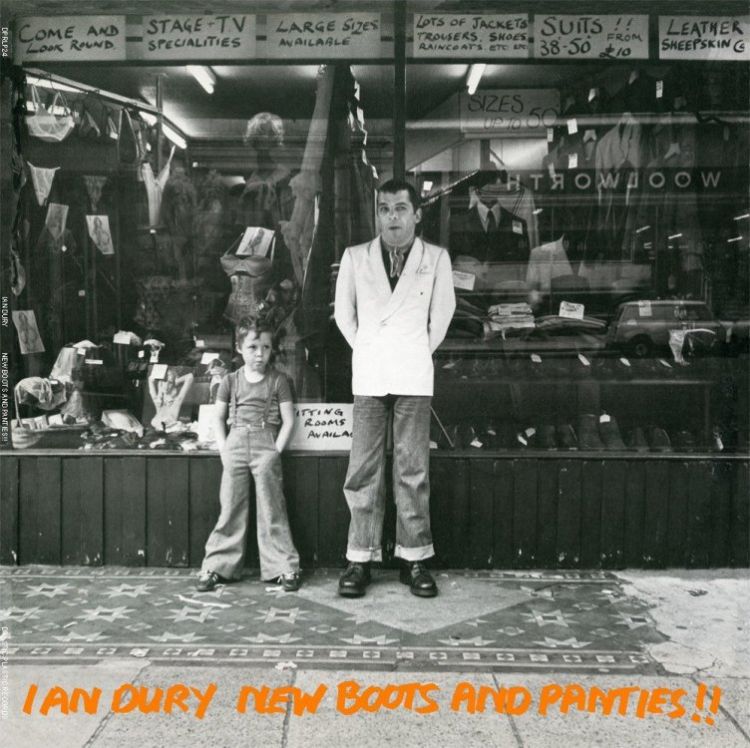 Transcendence
My design for Burton Bradstock's album All Upon A Lovely Summer's Day is a painting of bathers at Hampstead Heath Mixed Pond. The scene reveals the story of the album, layering together images and lyrics from each of the tracks, including the song The Mermaid of Hampstead Heath. The painting is about enlightenment, that moment that inspiration strikes and ideas come together to reveal a truth.
The line drawing and collaged cover of The Beatles' Revolver album by Klaus Voormann was an early influence. I learnt so much about life from Beatles' albums and songs. I first saw in them the impact of image, content and form that takes place via the medium of an album cover, glows bright, and then leaves a light inside that never goes out.
Abum artwork becomes overlooked in these times if digital downloads and streaming. The physical object of a vinyl record has become less important to an extent, although an upsurge in vinyl sales is a promising recent development. These beautiful visions of the art of noise that have been so influential are still relevant and long may they remain so.