Bronzed off: My National Pride, Notes on the General Rubric of Public Statues

'People are trapped in history and history is trapped in them' James Baldwin
'The very ink in which history is written is merely fluid prejudice' Mark Twain
'The future is unwritten' Joe Strummer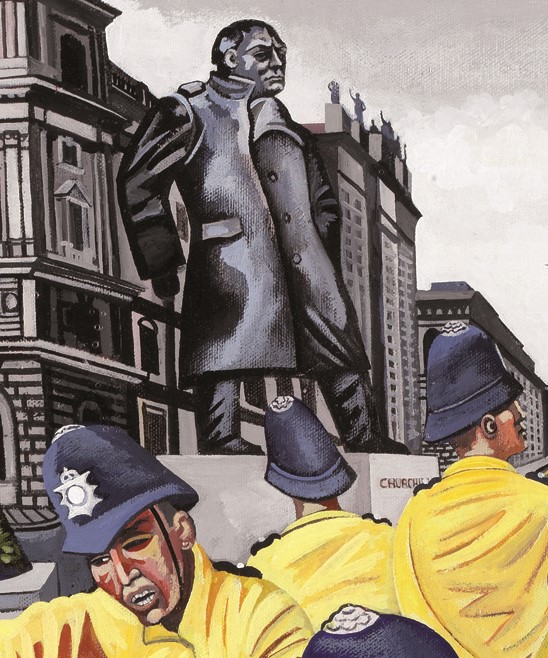 Don't fear The Watchmen
Walking the streets with my sketchbook, searching out ideas and energies, I'm often drawn towards street statues. Sometimes I catch their eye while I wait with pencil in hand, clutching my sketchbook, naked blank page full of possibilities before me. The future is unwritten and it is one of pure exhilarating freedom. I watch the crowd around me, trying to tap into its energy. Sometimes it can seem like we share a moment, me and that glaring bronze cast, our darkened eyes peering out together into the middle distance of our fading histories. We both seem paralysed by the weight of our past. My hand is heavy, leaden, with fear and trepidation as I begin to draw, trying to quell the internal voices telling me that I'll never do anything as good as my last painting, I'll never find the freedom I need to look at the world with new eyes, seeing it as if for the first time to create something that resonates with my own truth. I'm conjuring up the courage to question everything, to become vulnerable and admit that everything I think I know may not be what it appears to be.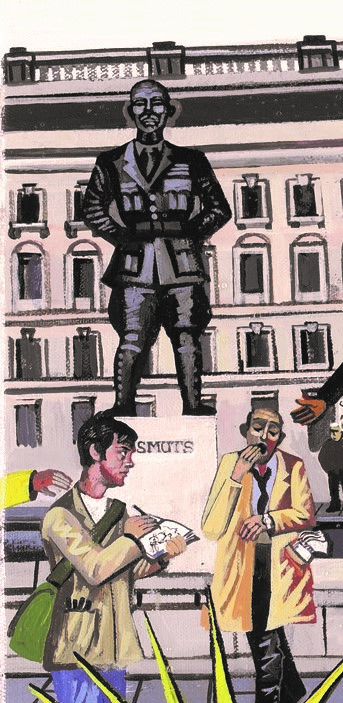 General Jan Smuts' statue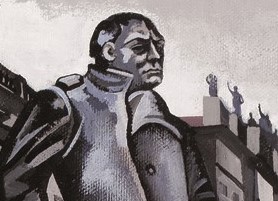 Winston Churchill's statue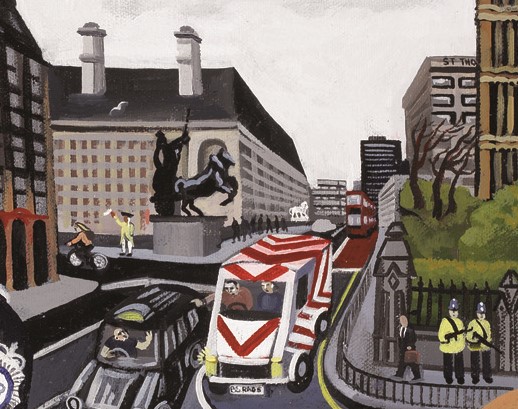 Boudica's statue
Triumverates, centurions and centuries Standing sketching Winston Churchill's and Boudica's statues in Whitehall from my vantage point under the statue of General Smuts I realised that I was caught in a triumvirate with the distant echoes of a nation's story rebounding off the white walls around me. To my left was the Cenotaph and I could even see Roman centurions hailing above me if I looked far enough.
Nothing to see here The resulting painting I made is called 'Nothing to See Here'. These are the words I was told as I was tapped on the shoulder and moved on by the authorities that day. In reality though, there is everything to see here. On one level I was watching a simple demonstration about a complex war in a far off land, on a deeper level I was witnessing the effects of a Labour government eroding democracy in pursuit an illegitimate war, delve deeper still and you will find all the murk and smut of a post colonial nation's Middle Eastern foreign policies that you can shovel up. Here then on this small turf pitch I was watching a nation tackling and wrestling with a multitude of shifting identities, overseen by a cheerless crowd of silent iconic effigies from its past.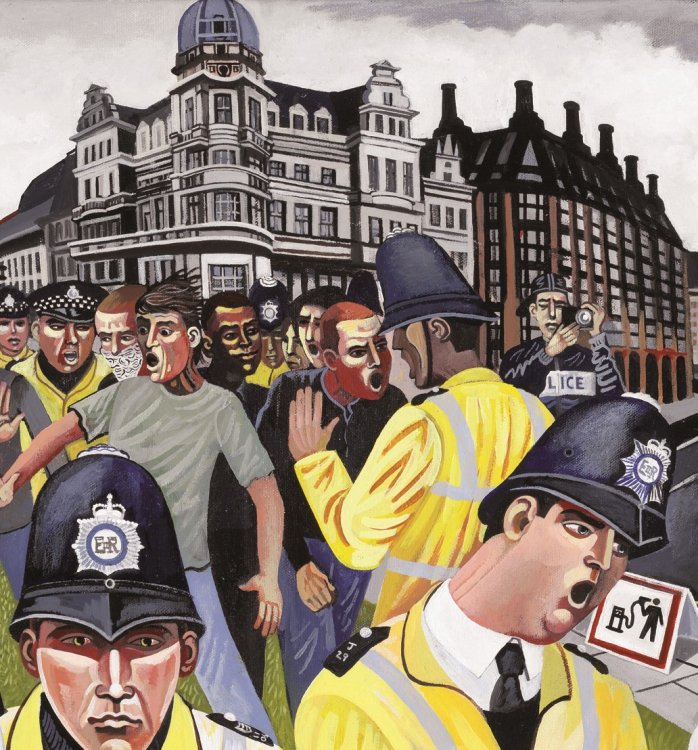 A big white thaw Statues are stories frozen in time, mostly it seems white frozen stories, told inevitably by the powerful and victorious, reinvented, retold and remoulded when needed. They stand dormant, seemigly erect but limp in reality, forgotten and mute, if we let them lie unexamined. Nothing to see? Take off your snow googles. There is much to be learned from exploring our stories from the past as viewed through our present circumstances, knowledge and experience.
All at sea in the wash  Statues stand silently still while the world changes around them. We hold onto them to define ourselves and give us a sense of identity, unity and safety, feeling how far we've sailed, buoyed along by the weight of history, almost overwhelmed by the wash at times. They can inspire us to find the best versions of ourselves, reminding us that we have endured so much, against all the odds. But which 'we' is 'we'? When I painted this anti-war painting in 2007 I realised I was surrounded by statues that told one story in unison and it was for the most part, white, male and militaristic. I was standing in Parliament Square in Whitehall surrounded by statues of powerful white men.13 years on I'm so glad a serious dialogue about statues has begun.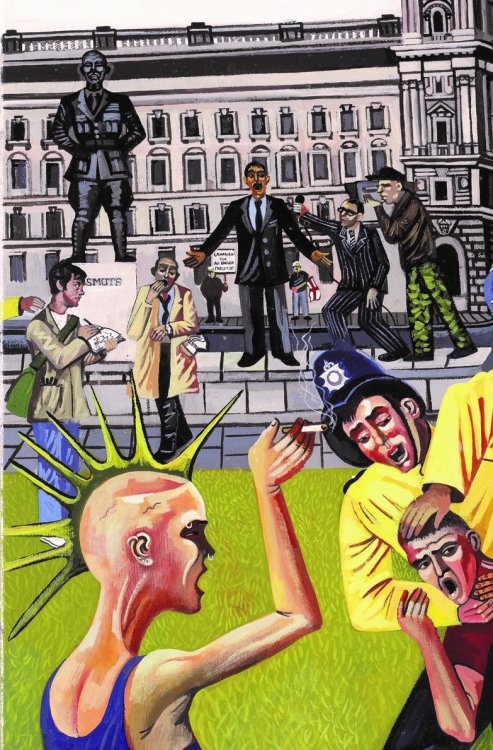 Tracing the smut through the general rubric You wouldn't know much about the life of General Jan Smuts from his statue in Parliament Square. You might guess that he was a man of great importance. Closer observation away from the statue reveals a complex character, deeply troubling when viewed from our own  times. Smuts, an early supporter of Cecil Rhodes, became one of the racist founding fathers of South Africa.  But as he sought to suppress black South Africans at home he fell out with Rhodes and eventually campaigned for peace through the League of Nations. He proclaimed the essence of his world view was best exemplified in the freedoms expressed by Walt Whitman, one of pantheism in opposition to religiosity.

Shadowplay No examined life story reveals a life lived without controversy and this is certainly true of the lives of those who have been elected to make complex decisions on our behalf.Very little can ever be said to have been created without some form of prejudice. The duality of human nature contains a complex interplay of shadows and light. Human nature has demanded that we aspire to try to learn from our mistakes by telling stories of ingenuity, innovation, leadership, bravery and those who gave their lives in the service of our country. However 'Nothing to see here, move on!' is the language of fear and the truth is that there's everything to see when we look up and open our eyes, our ears and our hearts and try to understand the diversity and complexity of the connected stories that constitute one nation.
Angels of Rotherhithe
Some statues say so much. One of my favourite London statues is actually a  group of statues- the Salter family in Rotherhithe just by the Angel Pub.The activist and politician Ada Salter stands next to her seated husband Dr Alfred Salter. The couple dedicated their working lives to helping the people of Bermondsey. They are reimagined gazing towards the Thames and a third sculpture of their little daughter Joyce who died of Scarlet fever aged 8. There is so much tragedy in these sculptures and yet it never fails to lift my heart. It is a talking point, acting as a permanent reminder that many people in public life work tirelessly to benefit their communities, regardless of risk to themselves and their families and despite the difficult circumstances that life casts upon them
https://www.se16.com/2680-salter-statues-2014
.
The future is unwritten Others sculptures will contain stories that are trapped inside them, stories so relevant that they are worth telling more vocally, triggering dialogues and debates in corner shops, pubs, football terraces and most importantly within our classrooms. Some of these debates have hitherto been silenced, suppressed and edited out of public consciousness, discretely left off the curriculum. Some other statues will be better explored once freed to be re-framed and repurposed within museums because they unlock so many more stories than can be told on one street corner alone. Inconvenient truths and a nation's complicity in great suffering must be acknowledged, for if we don't understand our history we will never understand ourselves or to quote Winston Churchill, 'The farther backward you can look, the farther forward you are likely to see'. Only then we can be free to work out what kind of statues, what kind of stories and whose lives will best represent our ever-changing, richly diverse nation upon the blank plinths of our unwritten future.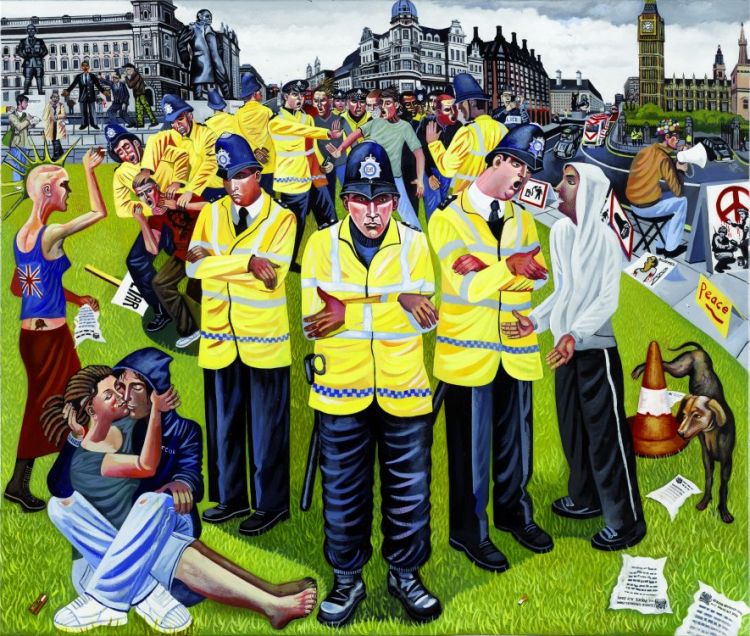 Nothing to see here, Whitehall, Westminster 2007
Link to a film about this painting